Autotuner Slave
Slave- The data obtained via a slave tool are intended to be modified by a master. These are encrypted.
Compatible with thousands of vehicles

Autotuner is a universal tool able to read information from most ECUs and microcontrollers available on the market in boot tricore Infineon (BSL), in bench or via the OBD diagnostic socket.
Autotuner is being constantly improved with new reading protocols. You can freely benefit from it as soon as you start your Autotuner Software.
Ultra-fast process
Thanks to the ECU communication optimization and its Cortex m3 processor, memory content (Dflash, Eflash and EEprom) reading is ultra-fast. It then systematically performs a backup of the TriCore password online.
All-in one package ready to use
Autotuner is delivered with all the required accessories in a dedicated package.
Easy-to-use software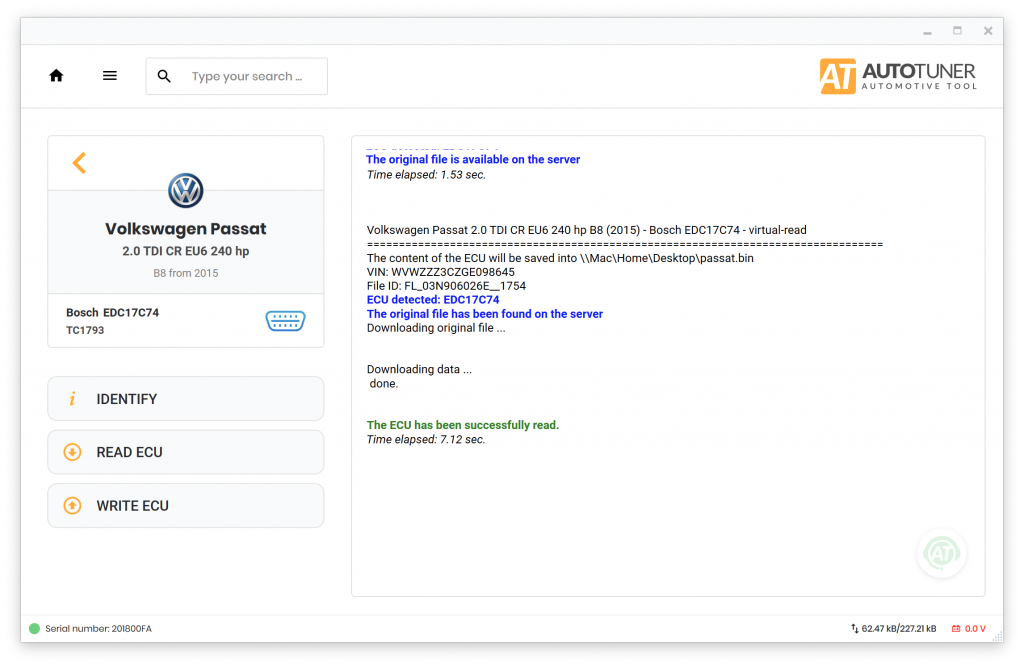 All compatible cars are displayed as a list so that you can quickly and easily select the ECU you want to read.

Follow the guide !
Specific help section is available in the software
Autotuner helps you locate the ECU or OBD diagnostic socket on the vehicle.
It then guides you step by step through the process of reading and illustrates each step with high-definition photos.
All information is continuously updated for free.
Autotuner is available in both master and slave versions. The file encryption / decryption process is handled by the tool.
It can also be done automatically via our online decryption API.
We also offer:
VF2 Flasher Master configurator