I/O TERMINAL DENSO ECU TOOL
DENSO ECU TOOL
Designed for cars MAZDA, NISSAN, MITSUBISHI, SUBARU, SUZUKI, VOLVO, JAGUAR and many others
The software enables I / O Terminal to support Denso controllers found in MAZDA, NISSAN, MITSUBISHI, SUBARU, SUZUKI, VOLVO, JAGUAR / LAND ROVER cars.
With this software you will be able to read and write Eeprom and internal and external flash memory manufactured by Denso (where possible).
Currently, the tool supports ECUs having such microcontrollers as 64F7055, 64F7058, 64F7059.
This software will help you: 
in reading and writing EEPROM memory

in reading the PIN code

Factory Reset (Virgin Reset)
You bought and what's next? 
After purchase, we send you an already activated SIM card, which you just need to insert into your Teminal I / O device. 
You can download the software from the website:  https://premium-tools24.com/ioterminal_download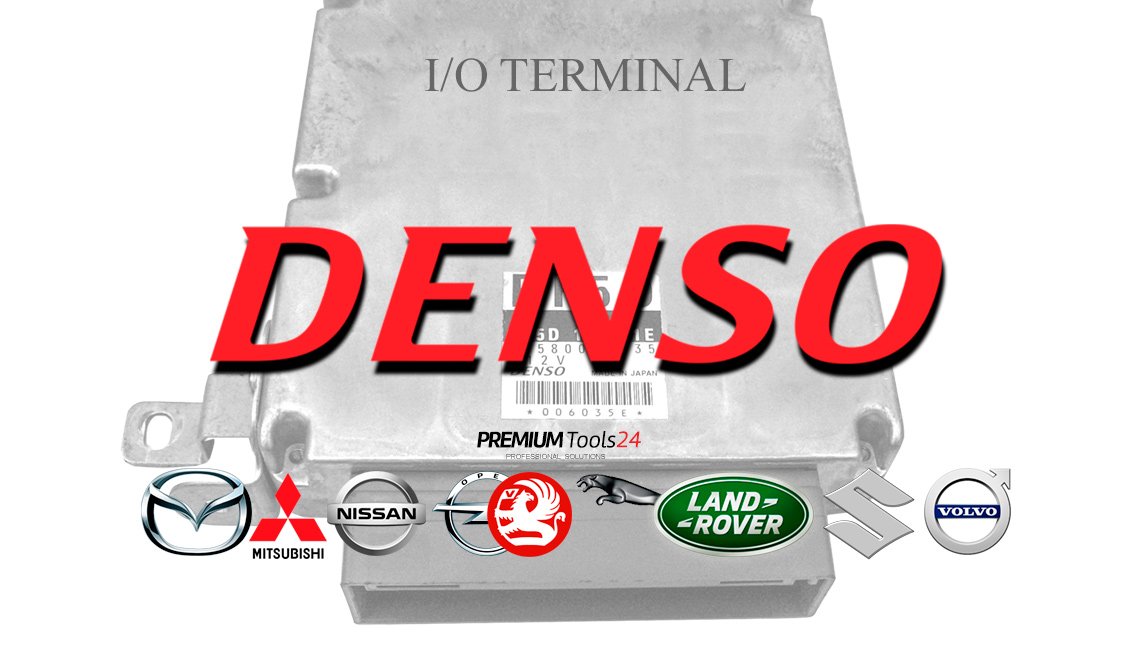 All operations can be performed via K-Line or CAN without the need to open the ECU
R / W – read / write
R / M – read / modify
OPEL / VAUXHALL

OPEL MERIVA, CORSA C 1.7 CDTI HYBRID ECU / 64F7055, 93C66 / – CAN & K-LINE

FULL R/W EEPROM 

| 

SHOW PIN CODE 

|

 RESET TO VIRGIN

OPEL VECTRA C / SIGNUM 3.0 CDTI / 64F7058, 93C86 x2 EEPROM / – CAN

FULL R/W EEPROM 

| 

SHOW PIN CODE 

| 

R/M ODOMETER 

|

 RESET TO VIRGIN

OPEL 1.7CDTI 110CV / 125CV Z17DTJ / Z17DTR / Z17DTH / A17DTH / A17DTR ASTRA H / ASTRA J / ZAFIRA B / CORSA D / MERIVA B / TIGRA B. / 64F7058, 93C86 x3 EEPROM / – CAN

FULL R/W EEPROM 

| 

SHOW PIN CODE 

| 

R/M ODOMETER 

|

 RESET TO VIRGIN

OPEL 1.7CDTI 110CV / 125CV Z17DTJ / Z17DTR / Z17DTH / A17DTH / A17DTR ASTRA H / ASTRA J / ZAFIRA B / CORSA D / MERIVA B / TIGRA B. / 64F7059, 93C86 x4 EEPROM / – CAN

FULL R/W EEPROM 

| 

SHOW PIN CODE 

| 

R/M ODOMETER 

|

 RESET TO VIRGIN

MAZDA

MAZDA 3/5/6 RF7 ECU. / 64F7058,93C86 / – CAN

FULL R/W EEPROM

MAZDA 2 1.5 from year 2010. / 64F7058, 93A56 / – CAN

FULL R/W EEPROM

NISSAN

NISSAN NAVARA / PATHFINDER 2.5DCI 2005-2009. / 64F7058,93C86 / – CAN

FULL R/W EEPROM

MITSUBISHI

MITSUBISHI L200 / PAJERO-4D56 / 4M41 2.5DID 136CV. / 64F7058,93C86 / – CAN

FULL R/W EEPROM

SUZUKI

SUZUKI 1.3 / 1.5 / 1.6. / 64F7058, 93A56 / – CAN

FULL R/W EEPROM

SUZUKI <2007 1.3 / 1.5 / 1.6. / 64F7055,93A56 / – CAN

FULL R/W EEPROM

SUZUKI JIMNY <2007 1.3 / 64F7055,93A56 / – CAN

FULL R/W EEPROM

VOLVO

Volvo V50 / S40 / V40 2006-2010 140ho / 170hp full / 64F7058, 93C56 / – CAN

FULL R/W EEPROM

Volvo V70 / S60 / S80 till 2006 140 140ho / 170hp / 64F7058, 93C56 / – CAN

FULL R/W EEPROM

Volvo V70 / S60 / S80 till 2006 140 140ho / 170hp / 64F7055 / and External Flash 29LV200BC, 93C56 / – CAN

FULL R/W EEPROM 

|

 R/W FLASH

Volvo S80 / XC90 4.4L V8 2007-2010 / 64F7058, 93A86 / – CAN

FULL R/W EEPROM

JAGUAR / LANDROVER

JAGUAR / LANDROVER P3.0NA / JAGUAR XF 4.2SC / 64F7058, 93A86 / -CAN

FULL R/W EEPROM

Also in our offer:
I/O TERMINAL BOSCH ECU TOOL
I/O TERMINAL MAGNETI MARELLI 1+2 ECU TOOL
I/O TERMINAL MAGNETI MARELLI2 ECU TOOL