WEBASTO Continental – Ford Land Rover Volvo – I/O Terminal
It is a software module that is part of the I / O Terminal MULTITOOL software
The module can be found under the English name: FORD / LAND ROVER / VOLVO AHCM / CPM TTV / TTVEVO WEBASTO CONTINENTAL 9S12DG256 fuel preheating modules
This software is for I / O Terminal programmer users (regardless of the interface version we have) .
It does not have its own SIM card, but works with the SIEMENS or Blank SIM card – because only these cards have the IDMON number to which the software is assigned.
After the purchase, you send us the IDMON number, and we send you the activation file  with the PDF instruction and a link to the Video.
What is this software for?
Thanks to it you will be able to program your own
AHCM (Auxiliary Heater Control Module) Webasto Continental which can be found in cars such as Ford and Land Rover
CPM (Combustion Preheater Module) in Volvo
The software enables:
Read / Write EEPROM memory of Freescale MC9S12DT256 microcontroller.
FLASH memory read / write.
Both the AHCM and CPM are connected directly to the LS CAN, so communicating with them is relatively simple for the Terminal I / O.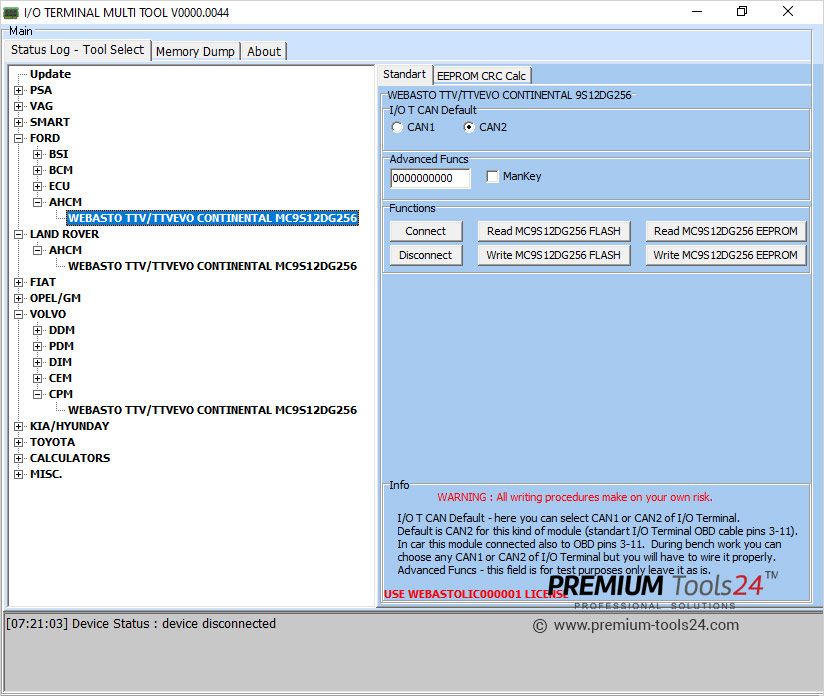 Also in our offer: