AUTEL MaxiDAS DS808TS

The subject of the offer is a new Autel MaxiDAS DS808TS diagnoscope. A new generation universal and multifunctional diagnoscope for European, American and Asian cars, developed by the most eminent experts in this industry, enables accurate, comprehensive, fast and stable diagnostics of all supported car systems, adaptations, coding, viewing parameters during operation, tests of actuators and many more. Perfect for the workshop, upgradeable. It has the ability to comprehensively support the TPMS system wireless programming of TPMS Autel MX-Sensor sensors.
2 years of free upgrades!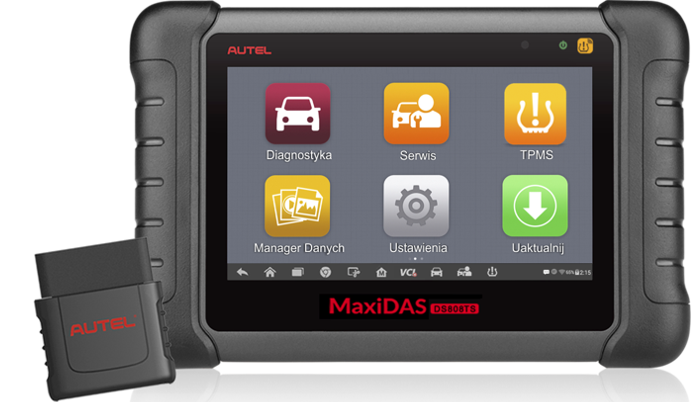 2 years of free upgrade included in the price of the device!
Support for over 80 brands, EUROPE, USA, ASIA
Support for all electronic systems
Diagnostics, ECU Info, Live data, actuator test, Adaptations and much more
Service functions including Oil Reset, EPB (Electronic Parking Brake), SAS (Steering Angle Sensor), BMS (Battery Management System), DPF (Diesel Particulate Filter) and many more
Smart AutoVIN technology for easy vehicle identification
Comprehensive TPMS support, built-in procedures, the ability to wirelessly program Autel MX-Sensor sensors (testing, creating, cloning)
Automatic software update system thanks to real-time push-up notifications via Wi-Fi
Remote control possible
The cloud-based MaxiFix online community provides an extensive database of diagnostic and repair tips and proven fixes
Interactive data logging sessions allow direct contact with Autel technical support, allowing for troubleshooting diagnostic issues and errors
Helpful in managing workshop operations by keeping all data files, customer information and vehicle records stored
Convenient data management system to manage internal applications and view data
Extremely powerful and efficient new generation Cortex-A9 quad-core processor (1.4 GHz)
Wireless communication
7 "1024 x 600 touch LCD display
32 GB memory
Wi-Fi
Ergonomic shape and rubber protection
Battery (provides a working time of up to 7 hours)
Android system ensures stable operation and fast startup
Easy and intuitive navigation
Preview of parameters in text, analog and graphic form
Live Data parameters can be saved and restored
Technical support
Automatic update via Wifi
Technical data AUTEL MaxiDAS DS808TS :
Operating system
Android™ 4.4.4
Processor
Cortex-A9 quad-core processor (1.4 GHz)
Memory
32GB
Display
touch LCD 7 1024×600
Communication
Mini USB 2.0
USB 2.0
Wi-Fi
HDMI Type A
Micro SD card slot (supports up to 32GB)
Audio
Input: N/A
vOutput: Beep
Sensors
Light sensor for automatic brightness adjustment
Power and battery
3.7 V/5000 mAh lithium-polymer battery, Charges via 5 VDC power supply

Charging input

5 V/1.5 A
Power consumption
600 mA (LCD on with default brightness, Wi-Fi on) @3.7 V
Working temperature
0 to 50°C
Storage temperature
-20 to 70°C
Cover
Strong plastic housing with rubber protection
Dimensions
270.8 mm x 176.0 mm x 36.0 mm
Weight
885 g
Protocols
ISO9141-2, ISO14230-2,ISO15765, K/L-Line, Flashing Code, SAE-J1850 VPW, SAE-J1850PWM, ISO11898 (Highspeed, Middlespeed, Lowspeed and Singlewire CAN, fault-tolerant CAN), SAE J2610,GM UART,UART Echo Byte Protocol, Honda Diag-H Protocol, TP2.0, TP1.6
Kit content AUTEL MaxiDAS DS808TS:
Tablet MaxiDAS DS808TS
MaxiVCI Mini

USB cable

Charger
Instruction
Suitcase
List of supported brands:
ALFA ROMEO
AUDI
ABARTH
BMW
CITROEN
CHRYSLER
DACIA
DAEWOO
FORD
FIAT
GM
HOLDEN
HONDA
HYUNDAI
INFINITI
ISUZU
JAGUAR
KIA
LAND ROVER
LANCIA
LEXUS
MINI
MAYBACH
MERCEDES BENZ
MERCEDES SPRINTER
MASERATI
MITSUBISHI
MAZDA
NISSAN
SMART
OPEL
PEUGEOT
RENAULT
SUBARU
SCION
SAAB
SEAT
SKODA
TOYOTA
VAUXHALL
VOLVO
VW
OBDII/EOBDII CAN/OBD INJECTION SYSTEM
For a complete list of supported brands, models, and features, click 
>>HERE<<
The most important functions AUTEL MaxiDAS DS808BT::
Diagnosis of all electronic systems of the vehicle (K and CAN lines) among others: Engine, ABS, Airbag, DPF, SAS, EPB, air conditioning, automatic transmission, comfort modules etc …

Reading error codes
Erasing error codes
Full support of current parameters during Live Data operation
It has the ability to wirelessly program TPMS Autel MX-Sensor sensors
ECU programming
Adaptations
Coding
Tests of actuators
Basic settings
Information about the ECU
Deletion of Oil Service inspections
Oil reset
EPB
Comprehensive service Autel MX-Sensor wireless programming, testing, creation, cloning
BMS
Brake bleed
DPF
Immo keys
Injector
SAS
Suspension
Throttle
Win DR Roof
Seat
Odometer
Lang change
Headlamp
CHG tire size
TEC learn
Trans adaption
Airbag reset