Autel MaxiSys Ultra
MaxiSys Ultra is Autel's most ambitious smart diagnostic tablet. Featuring a 12.9-inch touchscreen tablet and Android 7.0 operating system with an octa-core processor (Quad 2.3 GHz Quad 1.7 GHz), 256 GB of onboard memory, the components are capable of running multiple applications on a split screen to provide convenient diagnostics and component testing along with repair tips. Combined with dynamic module topology mapping, enhanced AutoSCAN features and intelligent diagnostics options, Ultra offers technicians detailed repair instructions. The new MaxiFlash VCMI functions as a 4-channel oscilloscope, waveform generator, multimeter and CAN BUS tester. The convenient included docking station ensures you always have scanning power. MaxiSys ULTRA offers access to Pass-Thru J2534 BMW, Mini, Mercedes
2 year's of free upgrade!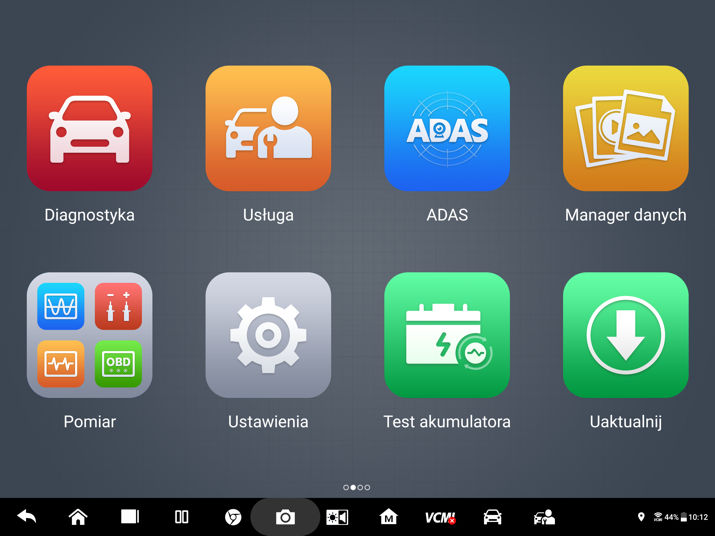 Autel updates provide the latest OE levels for over 80 US, European and Asian brands, including supercars
– Exceptional OE-level functionality, from comprehensive diagnostics and OBDII services to advanced ECU coding and programming
– Automatic system and software updates with real-time push notifications over the internet
– Interactive data logging sessions allow direct contact with Autel technical support for direct troubleshooting of diagnostic problems and errors
– One-stop multitasking designed for ideal management of workshop operations to maintain orderly organization of all data files, customer information and vehicle records
– Cloud-based data manager saves customer and vehicle data, scanner data and technician notes
– Large 12.9 inch (2732 x 2048) touch screen display
– Android 7.0
– Octa-core processor 2.3 GHz 1.7 GHz / 256 GB memory
– Advanced VCMI 5-in-1: VCI, 4-channel oscilloscope, multimeter, waveform generator, CAN BUS tester
– Pre-set oscilloscope and component tests
– New VCI protocols: D-PDU, DoIP / CAN FD, Mega CAN
– Multi application function on split screen / Dual Wi-Fi Connection
– Module topology mapping: Color coding of the entire system status (in supported vehicles)
– Repair assistant, repair tips video library for troubleshooting / DTC repair
– Repair assistance: Supported procedures with DTC analysis and fault code solutions
– Code related service bulletins (in selected vehicles)
– License plate reader
– ScanVIN: Barcode or text recognition with camera
– Secure Gateway Access: FCA SGM authorized access with AutoAuth account (sold separately)
– Docking station
– Cables, probes and accessories for oscilloscope and multimeter
– Enhanced diagnostic reports: PreSCAN and PostSCAN
– OBDII all 10 modes
– 18000 mAh battery – 8 hours of continuous use
– 16 MP rear camera and 5 MP front camera
– 1 year access to updates included in price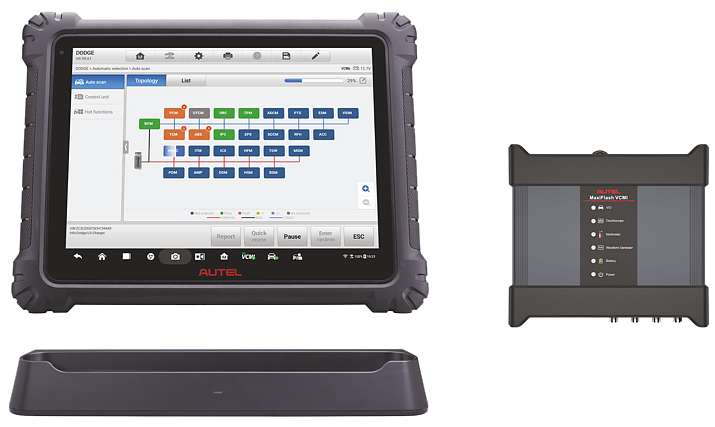 Supported protocols:
DoIP, PLC J2497, ISO-15765, SAE-J1939, ISO-14229 UDS, SAE-J2411 Single Wire Can (GMLAN), ISO-11898-2, ISO-11898-3, SAE-J2819 (TP20), TP16, ISO -9141, ISO-14230, SAE-J2610 (Chrysler SCI), UART Echo Byte, SAE-J2809 (Honda Diag-H), SAE-J2740 (GM ALDL), SAE-J1567 (CCD BUS), Ford UBP, Nissan DDL UART z zegarem, BMW DS2, BMW DS1, SAE J2819 (VAG KW81), KW82, SAE J1708, SAE-J1850 PWM (Ford SCP), SAE-J1850 VPW (GM Class2)
Supported vehicles
EUROPE/ASIA/USA
Passenger/Delivery
List of supported vehicles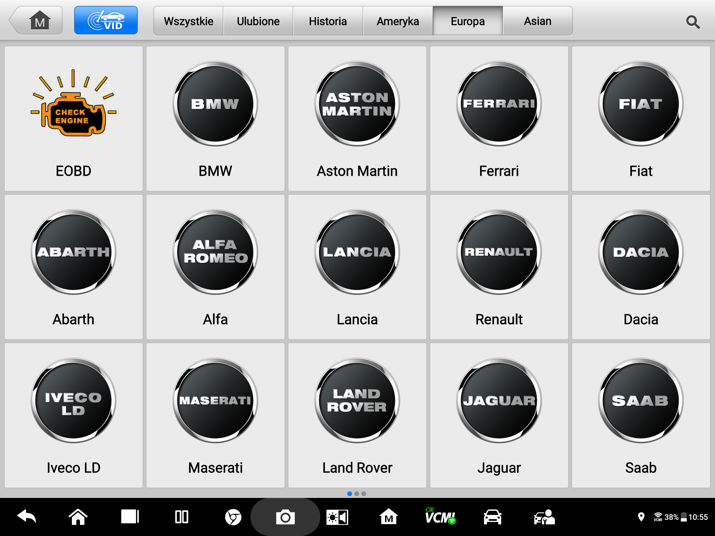 Supported systems
– Professional complete, fast and stable diagnostics of all electronic systems/modules including the latest protocols
– All systems present in the vehicle Engine/Body/Chassis
Functions
Diagnosis
– Automatic or manual vehicle detection, SCANVIN / AUTO-VIN / AUTO-SCAN technologies
– Scan VIN easy scan of vehicle ID with camera for identification, barcode or text recognition, license plate scan function, (vehicle repair history, report generation)
– Auto Scan performs comprehensive scan of all ECUs, list of modules on one page in CAN BUS tree topology – color mapping of module status
– ECU Info detailed information about the ECU under test, including type and version numbers.
– Error code reading of all systems. Intelligent diagnostics, the device offers comprehensive assistance in interpreting DTC error codes and possible repairs based on symptoms and related cases, troubleshooting tips and advice, MaxiFIX community user advice, Access to repair history library, video library. Enhanced diagnostic reports: Pre-Scan and Post-Scan, PDF report, History
– Freeze frames
– Error codes erasure
– Live Data, analogue mode, graphic, graphs, save function
– ECU programming
– Adaptations
– Coding
– Tests of actuators
– Basic settings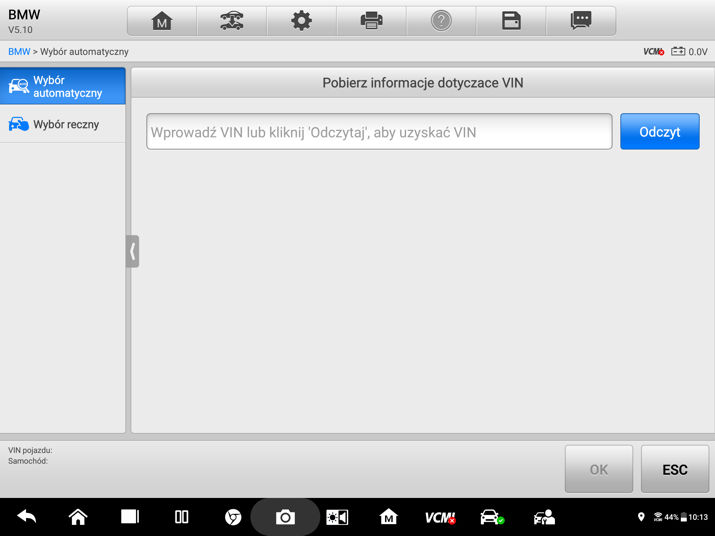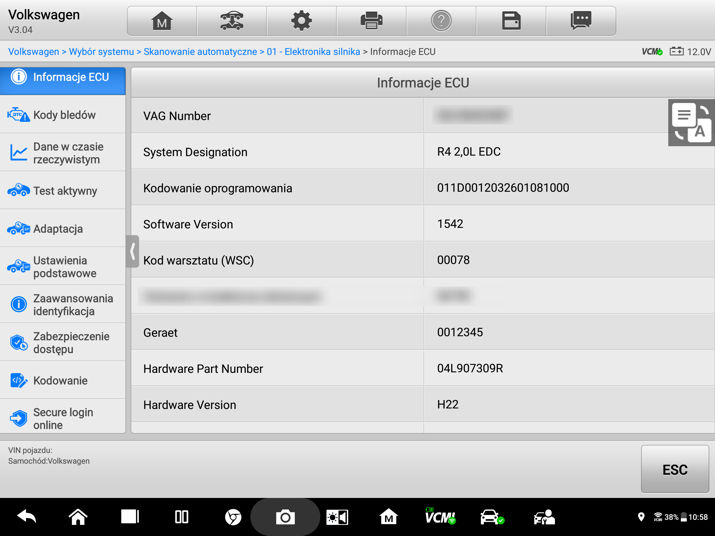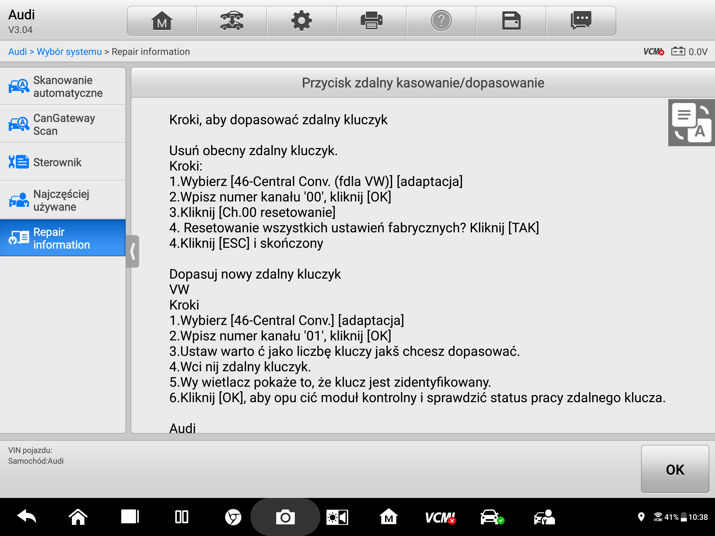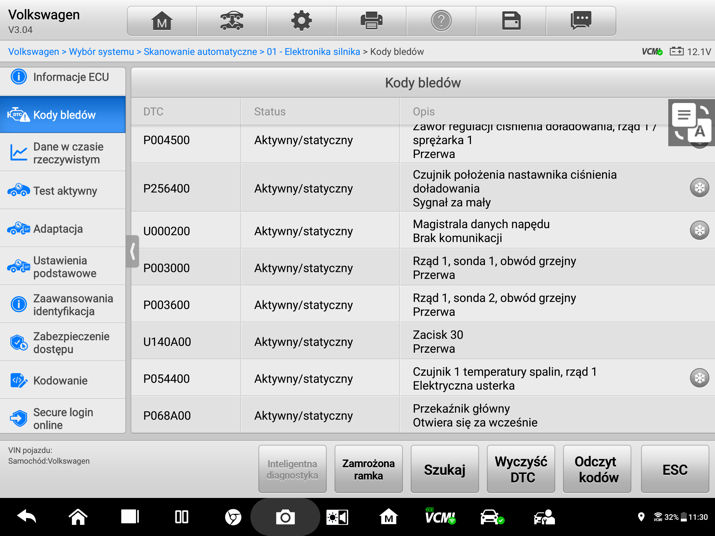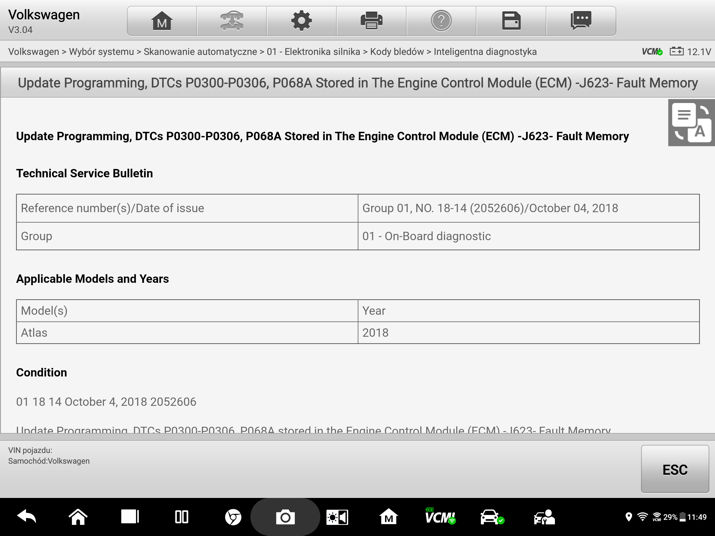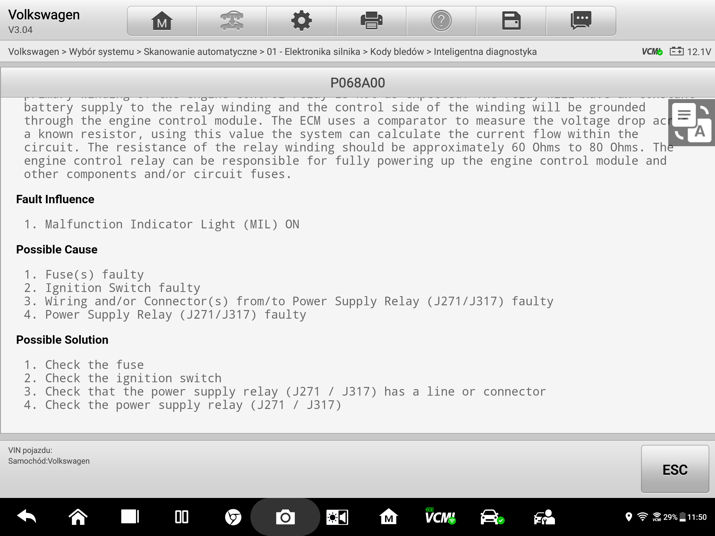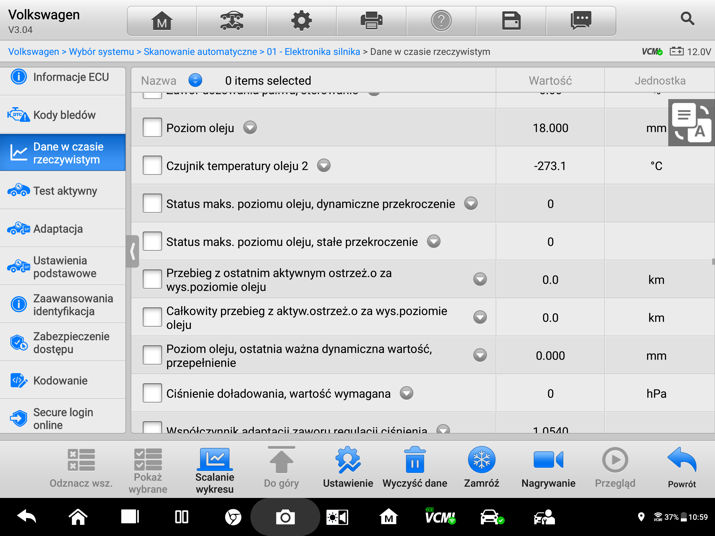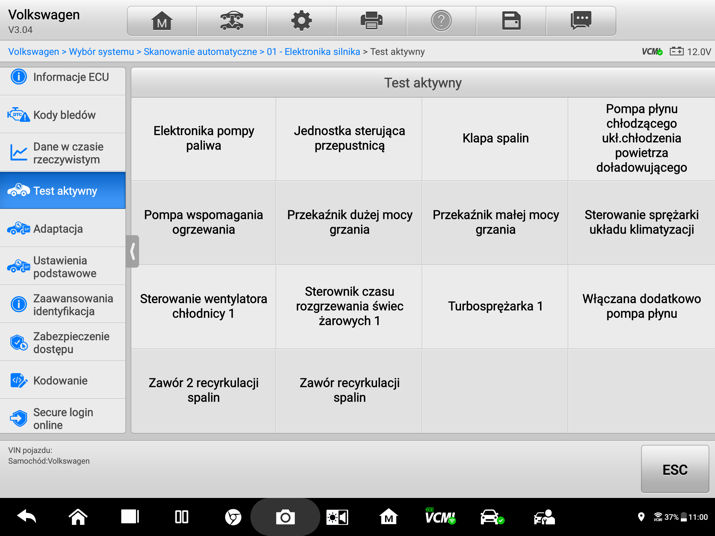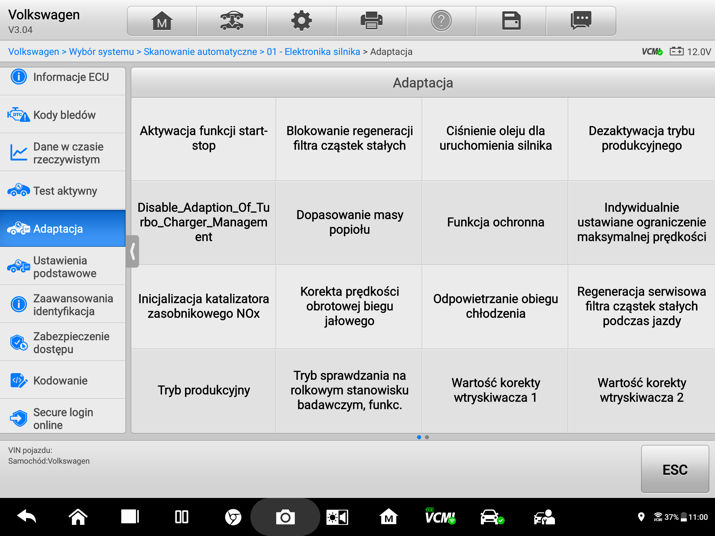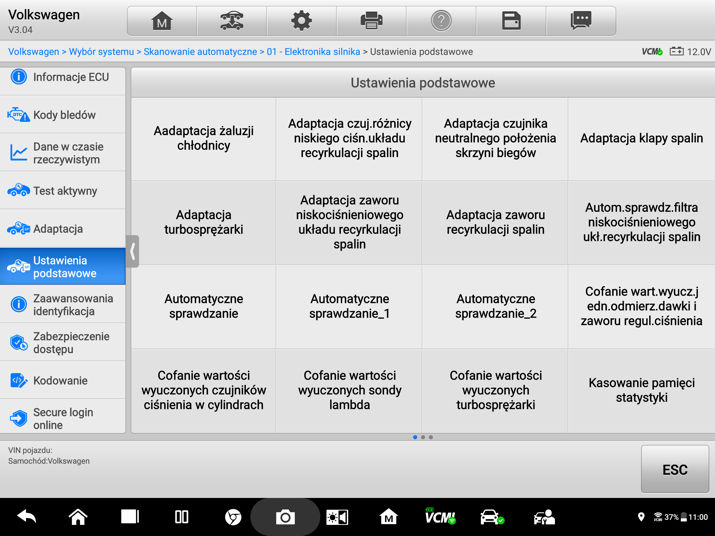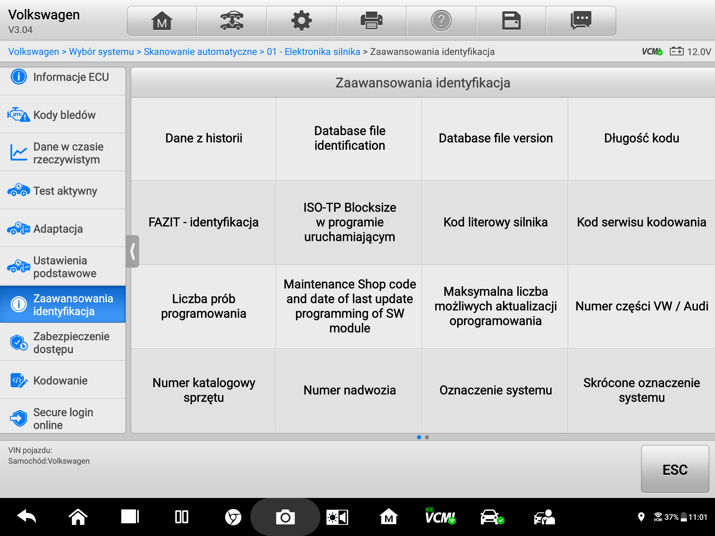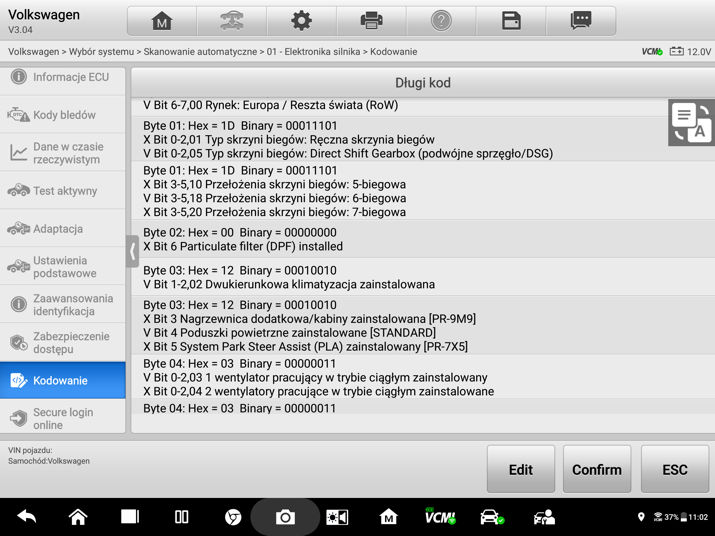 J2534, Pass-Thru
– Flashing, updating, online programming. The programming and coding function is used to re-flash the vehicle's control modules, allowing the vehicle's computer software to be updated to the latest version, as well as reprogramming the adaptive data of certain components after repair or replacement.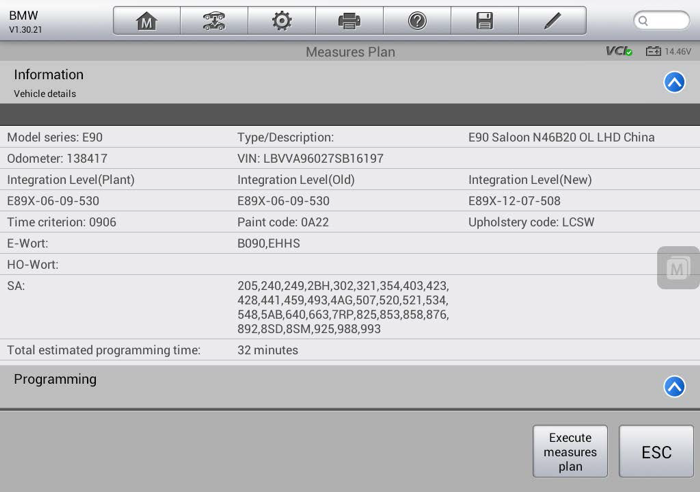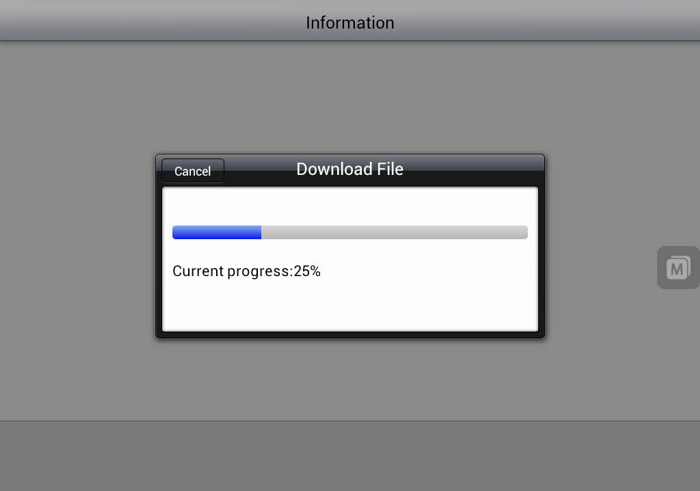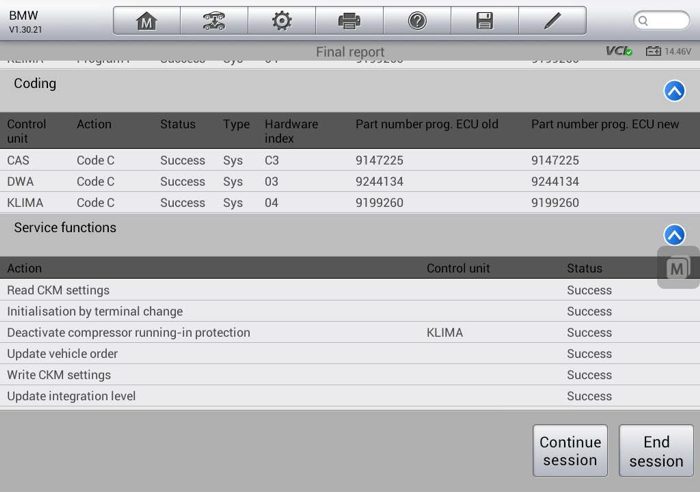 Service functions over 26, including:
– Oil reset, oil service
– EPB, pad replacement
– TPMS, sensor adaptation
– BMS, battery adaptation
– Brake bleed, brake bleeding
– DPF, burning out, replacement
– Immo keys
– Injector, coding injectors
– SAS, steering angle sensor calibration
– Suspension, suspension
– Throttle, throttle adaptation
– Win DR Roof, windows, doors, roof
– Seat, seats
– Odometer, counter
– Lang change, language change
– Headlamp, Headlight
– CHG tire size, Change tire size
– TEC learn
– ABS
– Cylinder
– Turbo
– Trans adaption
– Airbag reset
– Limit
– Clutch
– Transport adaptation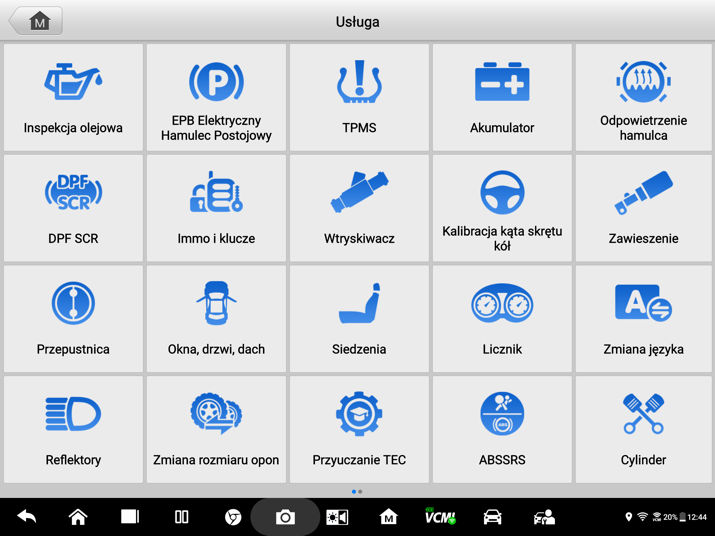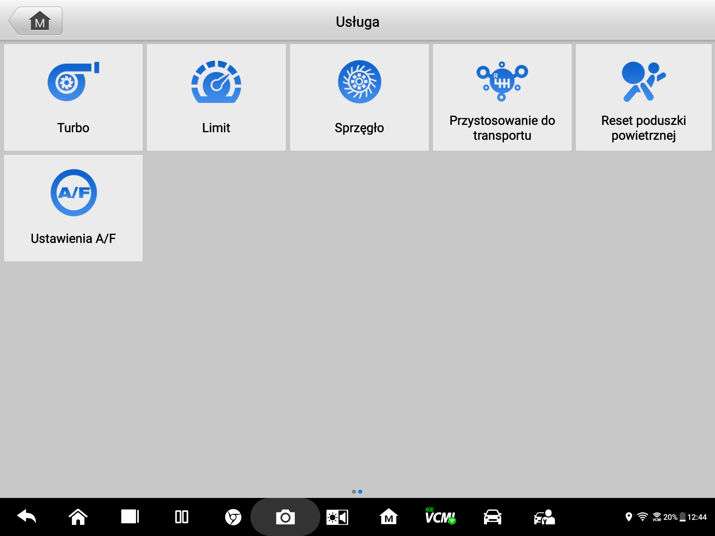 Oscilloscope
– 4 channel professional oscilloscope
– Faster 20 MHz bandwidth / 80MS/s sampling rate
– Higher 12-bit resolution / larger 32Mil Samples memory
– Pre-defined oscilloscope and component tests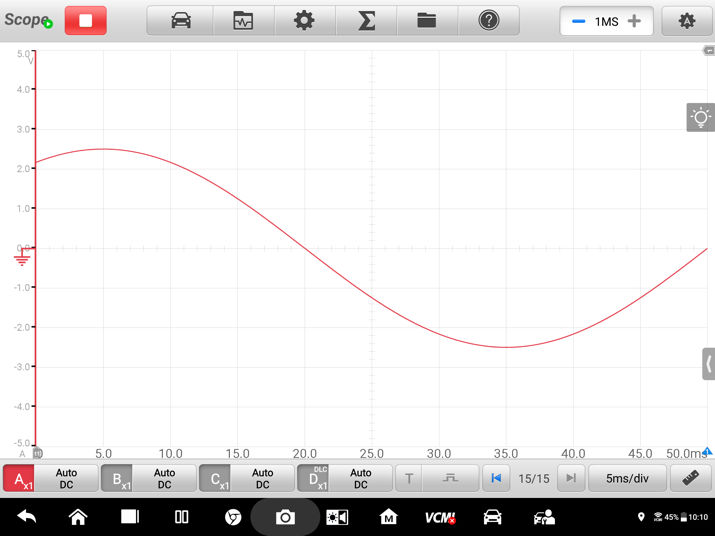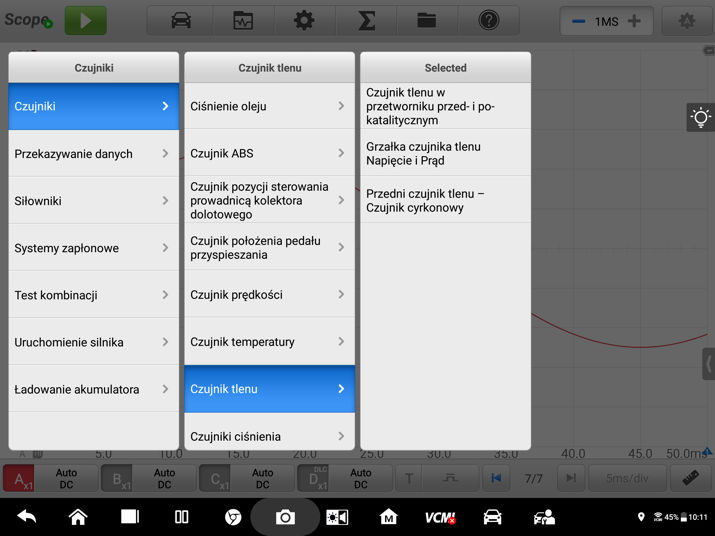 CAN BUS test
Test for presence of signals in OBD port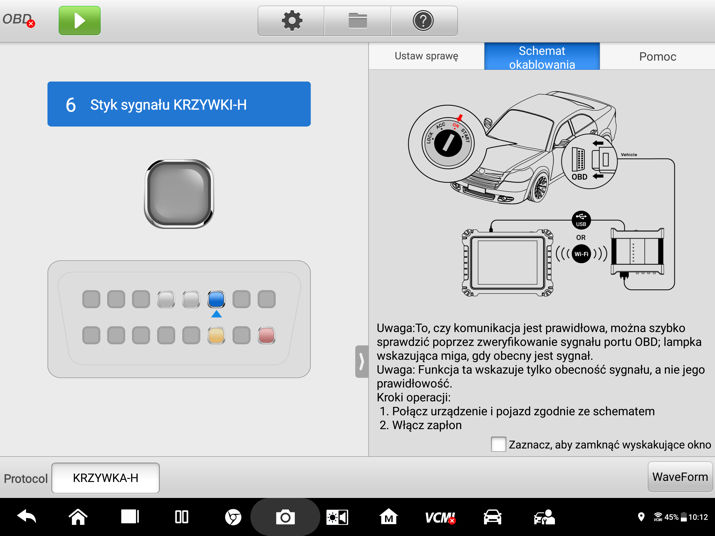 Waveform generator
– Simulation signal of various sensors, position, temperature, pressure as well as maximum voltage of 12v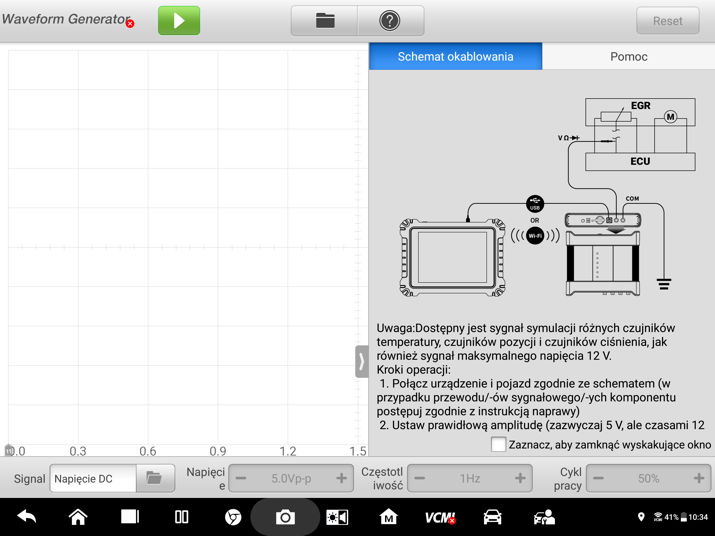 Multimeter
– Professional Multimeter Functions
Battery test
– In-vehicle test
– Off-vehicle test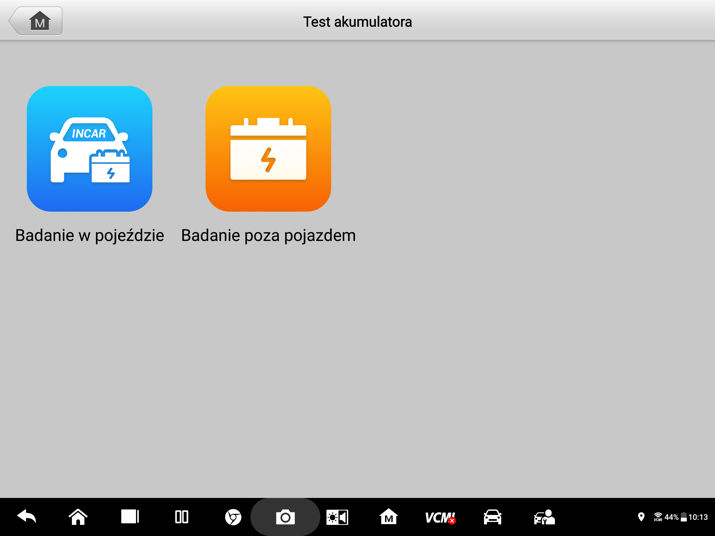 Data manager
– Vehicle repair history
– Workshop data
– Reading of recorded data, data logging
– PDF report generation, printable, shareable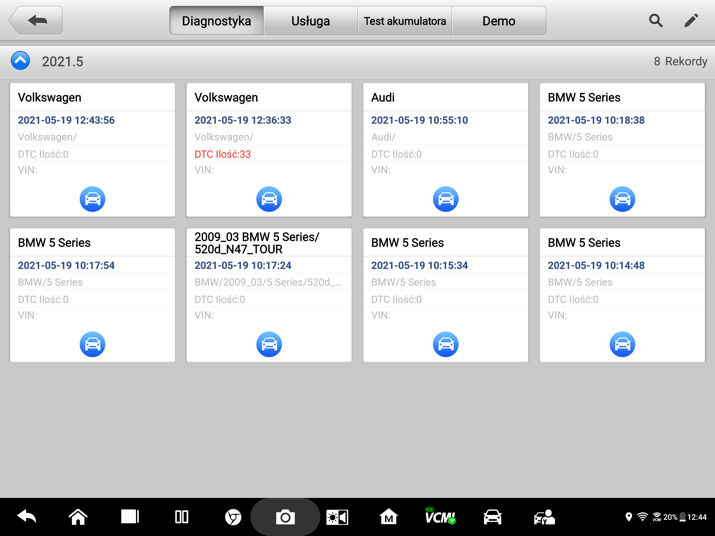 ADAS
Compatible software suitable for Autel radar calibration system (ADAS device is an extra cost product)
Technical data
System
Android 7.0
Processor
Samsung Exynos8895V octa-core Processor (2.3GHz Quad-core Mongoose 1.7GHz Quad-core A53)
Memory
4GB RAM & 256GB On-board Memory
Display
12.9 inch TFT-LCD with 2732 x 2048 resolution & capacitive touch screen
Communication

WiFix2 (802.11 a/b/g/n/ac 2×2 MIMO)
BT v.2.1 EDR
GPS
USB 2.0 (Two USB HOST Type A, one USB mini device)
HDMI 2.0
SD Card (Support up to 256GB)

Camera

Rear: 16 Megapixel, Autofocus with Flashlight
Front: 5 Megapixel

Sensors
Gravity Accelerometer, Ambient Light Sensor (ALS)
Audio Input/Output

Microphone
Dual Speakers
3-Band 3.5 mm stereo/standard headset jack

Power supply and battery

18000mAh 3.8 V lithium-polymer battery
Charging via 12 V AC/DC power supply with the temperature between 0°C and 45°C

NInput voltage
12V/3A Adapter
Working temperature
0 to 50°C (32 to 122°F)
Storage temperature
-20 to 60°C (-4 to 140°F)
Dimensions (WxHxD)
366.5 mm (14.43″) x 280.9 mm (11.06″) x 34 mm (1.34″)
Weight
2.18kg (4.81 lb.)
Protocols
DoIP, PLC J2497, ISO-15765, SAE-J1939, ISO-14229 UDS, SAE-J2411 Single Wire Can (GMLAN), ISO-11898-2, ISO-11898-3, SAE-J2819 (TP20), TP16, ISO-9141, ISO-14230, SAE-J2610 (Chrysler SCI), UART Echo Byte, SAE-J2809 (Honda Diag-H), SAE-J2740 (GM ALDL), SAE-J1567 (CCD BUS), Ford UBP, Nissan DDL UART with Clock, BMW DS2, BMW DS1, SAE J2819 (VAG KW81), KW82, SAE J1708, SAE-J1850 PWM (Ford SCP), SAE-J1850 VPW (GM Class2)
Contents of the kit:
Main Unit
MaxiFlash VCMI
Docking Station
Main Cable v2.0
USB 2.0 Cable V2
AC/DC Adapter (12v)
Cigarette Lighter
Light Fuse 6x30mm 2PCS
Clipper Cable
Scope Test Lead 4 PCS
Multimeter Test Lead 2 PCS
Secondary Ignition Pickup 2 PCS
Attenuator 20:1 2 PCS
Breakout Lead 4×6 PCS
Multimeter Probe 1×2 PCS
Flexible Back-pinning Probe 2×2 PCS
Back-pinning Probe Red/Green/Blue/Yellow/Black 1×5 PCS
Back-pinning Probe Screw 2 PCS
Back-pinning Probe Replacement Needle 20 PCS
Small Crocodile Clip 2×2 PCS
Large Dolphin Clip 1×2 PCS
Quick Reference Guide
Packing List
Soft Cloth
Tool Box
Carrying Case
We also offer:
Autel MaxiIM IM608 PRO G-BOX v2 IMPKA