Texa Navigator Nano S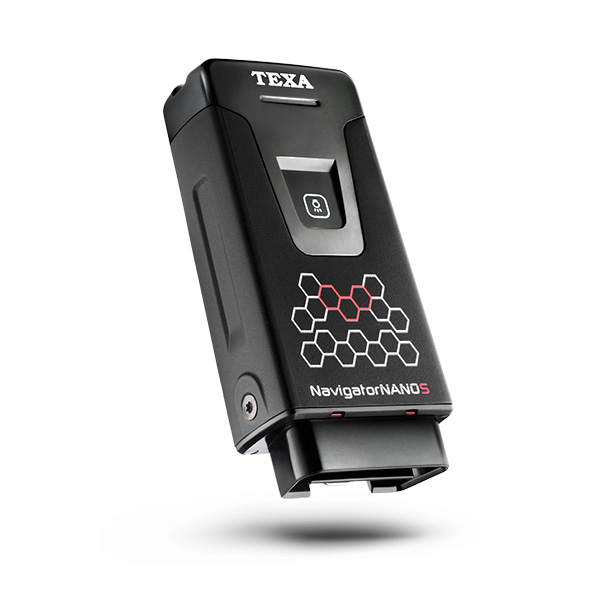 TEXA Navigator NANO S is a last generation diagnostic interface that allows you to perform all diagnostic operations on cars, vans, motorcycles, quads, scooters and jet skis.
Navigator NANO S was carefully designed and manufactured to meet the needs of a modern workshop. It will allow mechanics to perform all diagnostic tests and operations quickly and easily.
It is compact, lightweight and ergonomic. It was created to be automatic and easy to use and to work reliably with the new generation of TEXA displays such as AXONE S, AXONE 4 Mini, AXONE NEMO, PC.
Navigator NANO S can communicate both with vehicles equipped with OBD II socket, and with older models of passenger cars as well as with all POWERSPORTS category vehicles thanks to the proper adapters and cables.
Texa Navigator NANO S perfectly cooperates with TEXA visualization units which are equipped with IDC5 PLUC CAR unique operating system and all advanced features such as:
TGS3s automatic scan of all electronic controllers available for diagnostics and installed in the vehicle.
VIN SCAN automatic identification of the vehicle by VIN code.
"SOLVED PROBLEMS" powered by Google.
Robustness combined with attention to detail and the introduction of innovative technological solutions: this was the objective of the research and development team when creating the TEXA Navigator NANO S.
All research and design phases focused on creating an extremely user-friendly diagnostic interface, equipped with numerous and innovative technical details.
New design solutions ensured even higher reliability during connecting and disconnecting from the vehicle.
Mini led flashlight installed in the interface allows for illumination of the vehicle's diagnostic socket while plugging the device in, regardless of its location.
After the completion of the diagnostic operation, Navigator NANO S emits a sound signal to indicate the completion of the work and prevents it from being left in the customer's vehicle.
Navigator NANO S works perfectly with TEXA visualization units which are equipped with the unique IDC5 CAR PLUS operating system and all advanced features such as:
 TGS3s automatic scan of all electronic controllers available for diagnostics* and installed in the vehicle.
VIN SCAN automatic vehicle identification by VIN code
"SOLVED PROBLEMS" powered by Google
… and much more
Work Environment:
Operating temperature: 0 ÷ 50 °C
Storage temperature: -20 ÷ 60 °C
Operating humidity: 10% ÷ 80% non-condensing
Dimensions:

51 x 23 x 100 mm
Weight: 72 g

Supported protocols:

Flash codes;
K, L, (with 60mA circuit protection) ISO9141-2,
ISO14230;
CAN ISO 11898-2;
CAN ISO 11898-3;
SAE J1850 PWM i VPW
PROCESSOR Texa Navigator Nano S
CORTEX M3 STM32F103 72MHz
Memory
External SRAM: 8 Mbit- 512 Kb x 16 bits
External NAND flash memory: 2 GBit on 8 bit bus
INTERNAL BATTERY
Lithium polymer, single battery, 3.7 V 250 mA/h
EXTERNAL POWER SUPPLY
Virtual RS232 via USB 2.0 device
WIRELESS CONNECTION
Bluetooth Class 1 (30 m)
ELECTRONIC MULTIPLEXER
DIAGNOSTIC AND POWER CONNECTOR
REGULATIONS
Directive: 1999/5/EC
Safety: EN 60950-1
Electromagnetic compatibility: EN 301 489-1, EN 301 489-17
Radio systems: EN 300 328-2
We also offer: