Phoenix Pro – device after Exhibition ( visible small marks of usage) – 2 years of updates
Phoenix Pro is an evolutionary smart solution for passenger car diagnosis based on the multitask-capable Android operating system. Using the powerful 8-core 2.0GHz processor and a 12 inch HD capacitive touch screen, combined with the best possible coverage of OEM-level diagnostics.
Phoenix Pro delivers quick & complete diagnostic functionality which helps to diagnose vehicle issues more efficiently, significantly decreasing downtime and increasing your revenue. Phoenix Pro also has functions of vehicle diagnosis (Intelligent Diagnostics, Local Diagnostics & Remote Diagnostics), oscilloscope, ignition scope, sensor simulator, multimeter, battery test, videoscope and browser etc. HDMI extending display function is available. As a result, it has strong practicability and high performance-price ratio, which is a powerful assistant for vehicle repair and maintenance.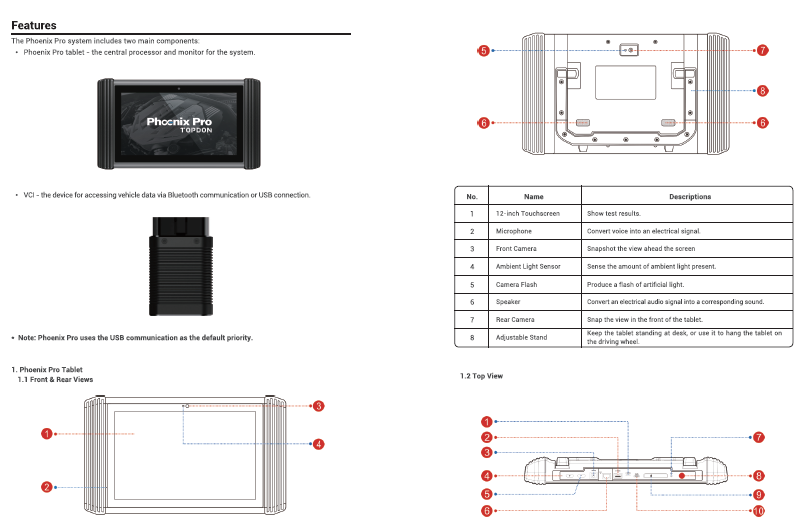 FEATURES
Exceptional OE-Level functionality from comprehensive OBD2 diagnostics & services to advanced ECU coding and programming
Interactive Data Logging sessions enable direct contact with professional tech support for first-hand troubleshooting of diagnostic bugs and errors
12 inch HD capacitive touch screen
Rubberized outer protection and rugged internal housing, this tool is built for daily use in a shop environment
USA based tech support with industry leading 1 hour callback promise.
Special functions including: • OIL RESET • SAS RESET • EPB RESET • IMMOBILIZER • INJECTOR CODING • SUNROOF RESET • GEARBOX • EGR ADAPTION • DPF RESET • ABS BLEEDING • TPMS RESET • BMS RESET • AFS RESET • SUSPENSION RESET • GEAR LEARN • THROTTLE MATCHING
Module replacement
Module Programming
Personalization functions
Automatic power-off to preserve battery life
Modular design allows for future capability expansions
Excellent up-close visual inspections in confined areas, such as engine cylinders and minor part inspections
EXTENSIVE COVERAGE: This exceptional OE-Level functionality diagnostic scanner is available for over 80 1996 US-based, 2000 European-based and newer OBDII protocol vehicles with full OBDII functions, 11 unique services, and complete systems diagnosis
TECHNICAL SUPPORT: This diagnostic tool supports first-hand troubleshooting of diagnostic bugs and errors. One-stop multitasking design for ideal management of workshop operations to keep all data files, customer information, and vehicle records well organized
SPECIFICATIONS
Operating System: Android 5.1.1
Processor: 8-Core 2.0GHz processor
Memory: 2GB RAM & 64GB Embedded Memory
Display: 12" Display with 1920×1200 resolution and capacitive touch screen
Connectivity: 802.11a/b/g/n/ac WIFI, 2.0 3Mbs Bluetooth, RJ45 Ethernet Connection, 2.0 USB, HDMI 1.4a, SD Card (supports up to 128GB)
Camera: Rear: 8.0 Megapixels, Autofocus with Flashlight, Front: 2.0 Megapixels
Sensors: Gravity Accelerometer
Audio Input/Output: Microphone, Dual Speakers, 3.5mm stereo/standard headset jack
Power and Battery: 3.7V/15000mAH Lithium-polymer battery
Input Voltage: DC/5V/3A
Power Consumption: Max 20W
Operating Temperature: 14℉ – 131℉ ( 10°C – 55°C)
Dimensions:14.80" x 8.6" x 1.96"
Weight: 2,1 kg  LBS.
PACKAGE LIST
1 – Phoenix Pro™ Tablet
1 – VCI Connector
1 – OBDII Extension Cable
1 – Power Adapter
1 – USB Cable
1 – OBDI Adapter
1 – Cigarette Lighter Charger
1 – Battery Clamps Cable
1 – Password Envelope
1 – Adapter Cable Kit Adapters of: AUDI-4 BENZ-14 BENZ-38 BMW-20 CHRYSLER-6 DAEWOO-12 DAIHATSU-4 FIAT-3 FORD-6 1 GEELY-22 GM/VAZ-12 HONDA-3 KIA-20 MAZDA-17 MITSUBISHI/HYUNDAI-12 16 NISSAN-14 16 SSANGYONG-14 SSANGYONG-20 SUBARU-9 SUZUKI-3 TOYOTA-17 TOYOTA-22 UNIVERSAL-3
WARRANTY & UPDATES
Two Year Warranty
One Year of Updates