Autotuner Master road dyno DynoPRO
Master – The data obtained via a master tool can be freely modified. These are not encrypted.
Compatible with thousands of vehicles

Autotuner is a universal tool able to read information from most ECUs and microcontrollers available on the market in boot tricore Infineon (BSL), in bench or via the OBD diagnostic socket.
Autotuner is being constantly improved with new reading protocols. You can freely benefit from it as soon as you start your Autotuner Software.
Ultra-fast process
Thanks to the ECU communication optimization and its Cortex m3 processor, memory content (Dflash, Eflash and EEprom) reading is ultra-fast. It then systematically performs a backup of the TriCore password online.
All-in one package ready to use
Autotuner is delivered with all the required accessories in a dedicated package.
Easy-to-use software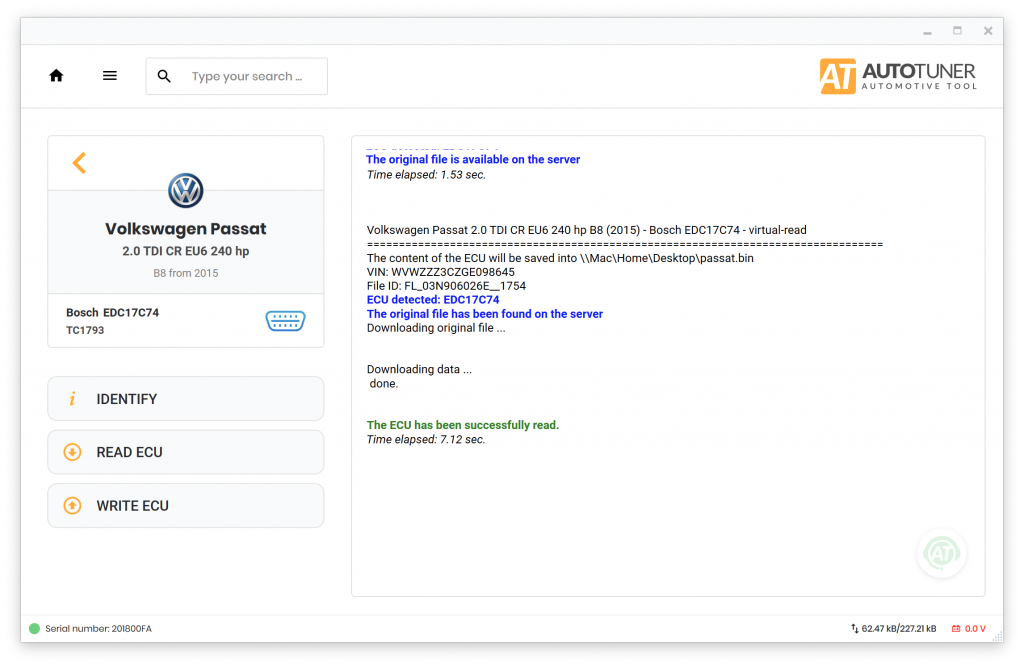 All compatible cars are displayed as a list so that you can quickly and easily select the ECU you want to read.

Follow the guide !
Specific help section is available in the software
Autotuner helps you locate the ECU or OBD diagnostic socket on the vehicle.
It then guides you step by step through the process of reading and illustrates each step with high-definition photos.
All information is continuously updated for free.
Autotuner is available in both master and slave versions. The file encryption / decryption process is handled by the tool.
It can also be done automatically via our online decryption API.
Autotuner Master road dyno DynoPRO
DynoPRO road test dyno for professionals
DynoPro is a road test bench for measuring power, torque, acceleration and other parameters of passenger cars and other combustion or electric vehicles. Measurements can be made on vehicles with any type of drive. No power limit for the measured vehicle. The dynamometer is intended for use in widespread motorsport by professionals.
DynoPRO Road test dyno – a fast and effective solution. The device is characterized by a compact, compact housing made of aluminum and plastic. The installation takes about 2 minutes. Afterwards the device is ready to measure.
The vehicle weight and tire size are needed for the measurement, no tire measurements are required (the program calculates them automatically). The device has a built-in weather station for measuring temperature and air pressure (-40 ° 100 °, 300-1100hpa).
Communication with the DYNO probe and the OBD2 probe is in Bluetooth standard. The Dyno probe has a built-in battery, which allows an operating time of about 10 hours. The OBD2 probe is powered by the OBD2 connector.
In addition to the standard power measurement, the device can be used with additional parameters such as: Charge pressure, injection line pressure, exhaust gas temperature, etc. are recorded and inserted into the diagram in relation to the power or torque diagram.
In addition to the power measurement, the software enables the diagnosis of the motor controller in the EOBD standard (identification of the motor controller and diagnostic protocol, reading and clearing of DTC errors, measurement of actual values).
The measurement results are presented in 3 variants. Real, DIN70020, SAE J1349. Repeated error with the same procedure and conditions below 1%.
The road test dyno DynoPRO has no time and quantity restrictions during operation. Free software updates. Technical support. The device warranty is 2 years.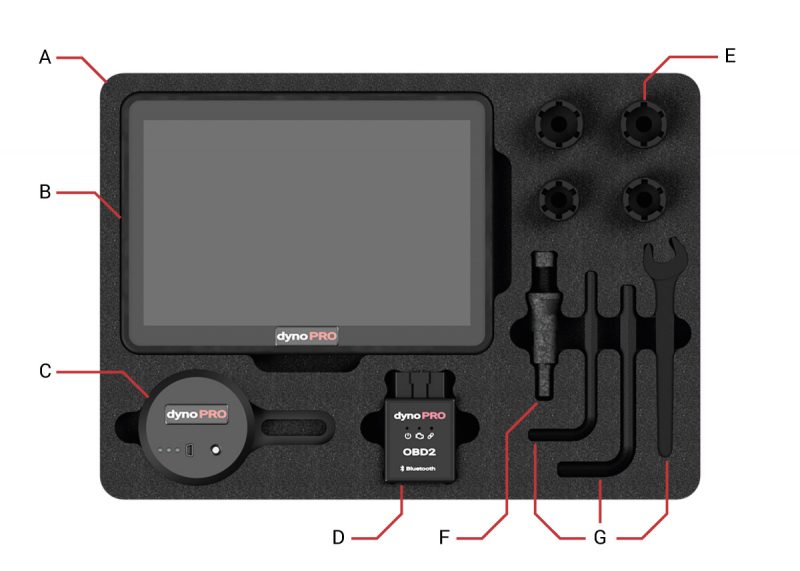 A – protective cover with foam insert.
B tablet (with DynoPRO application) in a protective housing, charger, adapter.
C dyno probe- mounted on the vehicle wheel.
D -OBD2 probe.
E-accessory kit for fixing Dyno probes- 17 mm, 19 mm, 21 mm, 22 mm. Set screw
F – M12 for fixing Dyno probes and M10 screw with spring washer.
G – 8 mm, 10 mm Allen key and 14 mm wrench.
We also offer:
VF2 Flasher Master configurator