DynoBox Dynamometer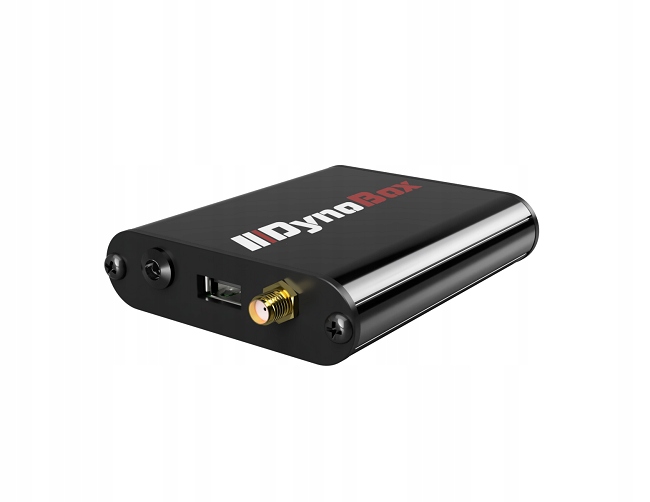 DynoBox is a portable dynamometer that allows to determine the power and torque of vehicles in the full range of engine speed. The device is based on an accurate GPS module, which, combined with an active Ublox antenna, gives very accurate results.
Preparation for the measurement comes down to mounting the antenna on the roof and preparing the vehicle profile. An indispensable device for modifications to internal combustion engines, which provides the same functionality for a fraction of the price of a stationary dynamometer. In the case of a road dynamometer, the load on the engine is the weight of the vehicle being accelerated over time.
The kit includes:
– DynoBox control panel
– Active magnetic GPS antenna
– PDF user manual
– USB cable
– Windows XP/Vista/7/8/10/11 compatible application
– Compact carrying case
We provide full support and, if necessary, we will help you with the launch of the device. We also invite you to our headquarters for a presentation of the device or training in its use after purchase.
What does the measurement look like on a roadside dynamometer:
1. The device is plugged into the USB port of a computer with the DynoBox application installed, while the antenna is placed on the roof of the vehicle (the antenna has a magnet),
2. When configuring the profile of the measured vehicle, we specify the necessary parameters such as mass, ambient temperature, atmospheric pressure (according to DIN 70020),
3. We calibrate the dynamometer by maintaining 3000RPM for a few seconds in the gear in which we will take the measurement,
4. accelerate the vehicle from about 1200RPM to the section, then immediately put in neutral gear(neutral gear with automatic transmission)
5.The car rolls freely for 15sec. so that the dynamometer calculates the loss resistance
6. the graph is displayed immediately after the measurement is completed
Functionalities available in the defectoscope application:
– extensive database where all measurements made are saved
– possibility of comparing graphs from different runs
– intuitive and easy-to-use user interface
– generation of reports for the customer
– free software updates
– measurement correction according to DIN 70020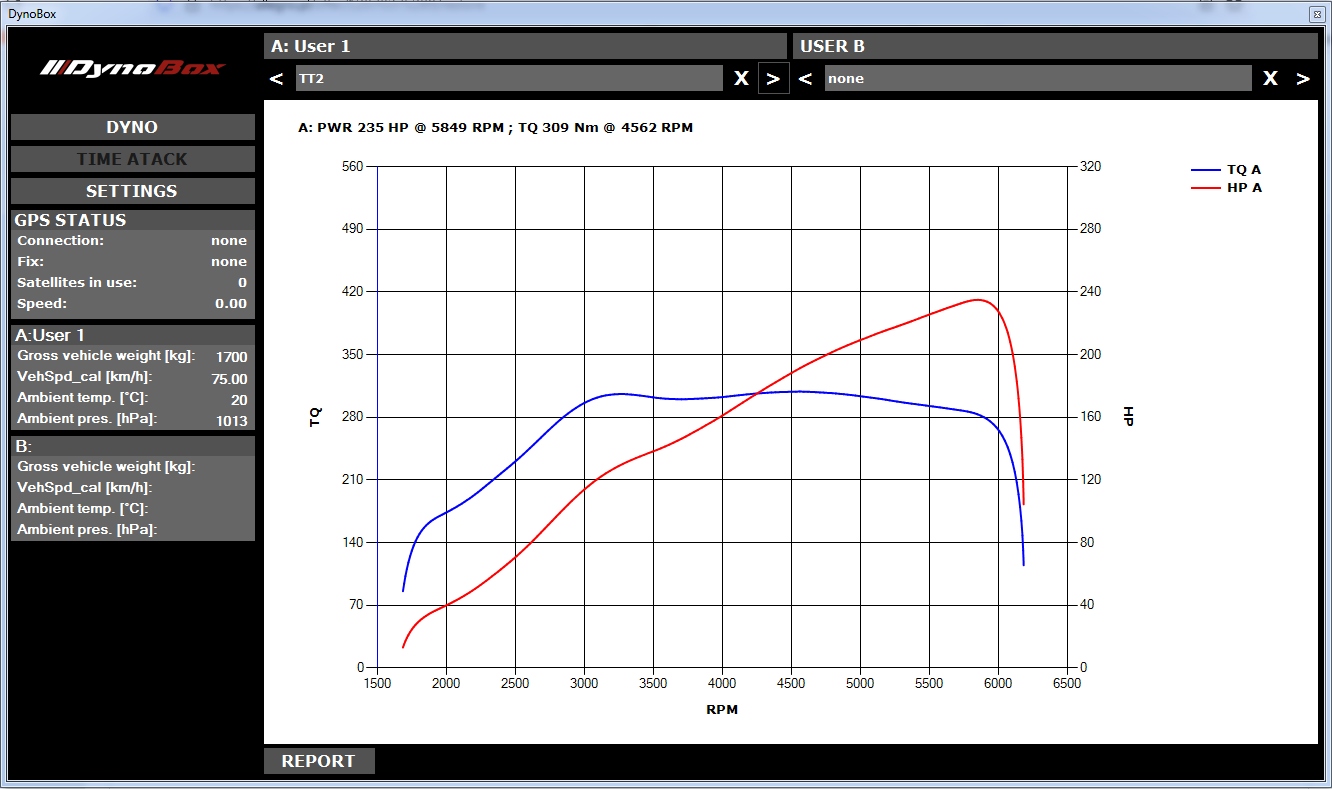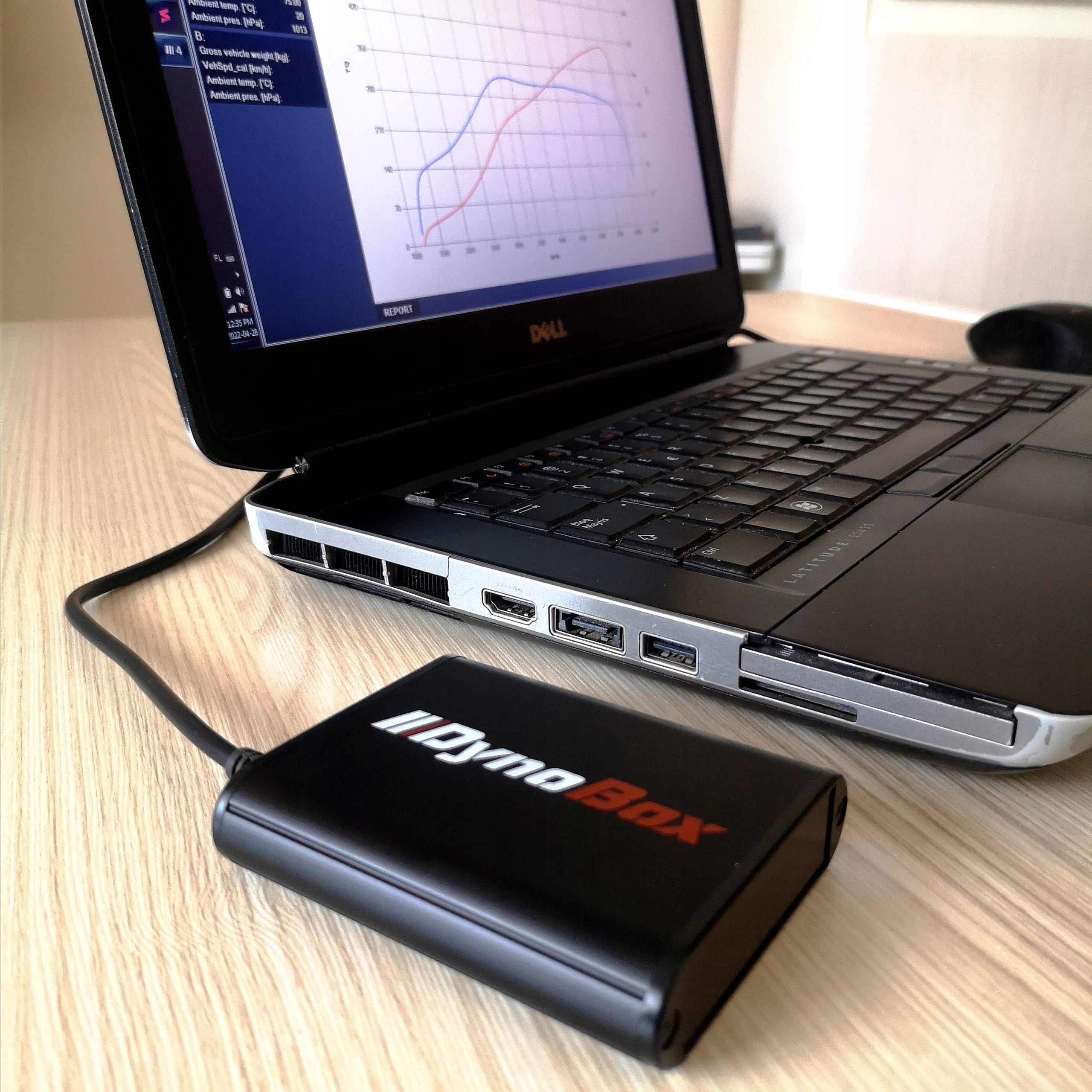 Why DynoBox?
The device was designed by users for users. The goal was to create a simple and easy-to-use device that would provide the same functionality to the tuner for a fraction of the price of a chassis dynamometer.
Advantages:
ability to test 4×4 cars
measurement is performed in real road conditions
no cooling problems on warm days
mobility
accuracy comparable to chassis dynamometers from German manufacturers such as MAHA