FLEX Full Master road dyno DynoRoad Dragy
FLEX Full Master road dyno DynoRoad  set with FLEX with all protocols and Dragy GPS Based Performance Meter
Test your vehicle in real life conditions through our intuitive and game changing App
DynoRoad The Portable Car Dyno
A fast and easy road dynamometer for testing your vehicle's performance
DynoRoad is an innovative mobile car dyno that measures power and torque in both electric and traditional vehicles via an app installed on your mobile device. This road dyno is so small and compact you can always have it with you and it can be installed on your car in just two minutes.
Robust Design:
Light yet durable, DynoRoad is made in from a solid aluminum body designed to preserve its sturdy characteristics and assure device longevity.
Internally Charged:
Completely portable, DynoRoad comes equipped with an internal battery that allows you to perform various test on the go and includes a USB-type C port for charging.
Long Lasting Battery:
Take your time with your car tests. Our integrated battery can take up as many measurements you need with its extensive battery life – up to 10hrs of work.
High Accuracy:
With it's built in sensors and complex algorithms, your results will be rock solid, especially now that you can test your car in a real-life scenarios – on the road.
Performing a Car Dyno Test is no Longer a Problem
With DynoRoad the measurements are highly accurate and repeatable by simply entering the correct vehicle weight and the tire dimensions. In addition, this car dyno has an integrated weather module that will allow you to measure ambient temperature and atmospheric pressure. DynoRoad allows you to consistently repeat results under similar conditions with a margin of error of less than 1%.
Accessory Kit
Together with the road dyno you will also receive an accessory kit for easy installation. There are no additional costs after purchase. DynoRoad can be used without any constraints.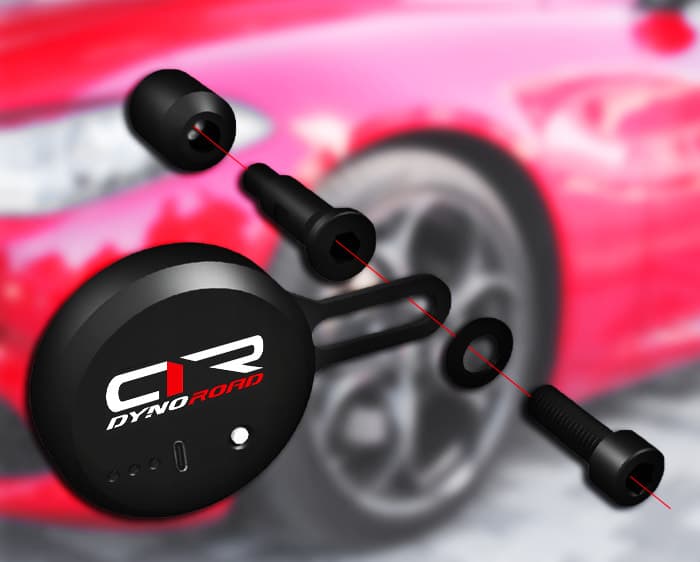 So Easy, So Fast, So Accurate
Getting started with DynoRoad is as easy as mounting the car dyno on the vehicle's wheel, pressing the ON / OFF switch and connecting it to your mobile device.

Fasten your seat belts and start your engine: after activating your car dyno with a Magicmotorsport account, you'll need to enter your car details to perform accurate measurements.

You can quickly and easily calibrate DynoRoad by maintaining 3000RPM for 5 seconds, while moving your vehicle at least 30 kmh in 4th gear. Additionally, you can change these settings to accommodate different vehicles by adjusting RPM level, gear choice and elapsed time to your desired values. Once the calibration is successful you're ready to roll!
Smart Mobile Application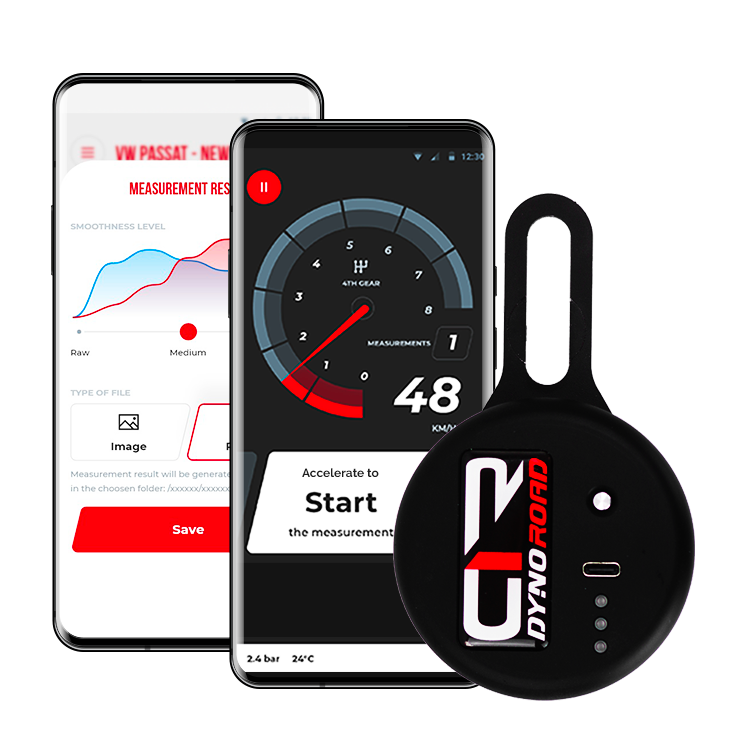 DynoRoad's application software user interface is simple and intuitive, designed for anyone that knows how to use a mobile phone. The app walks you through the initial set-up of the car dyno and gives you clear and understandable options to accurately measure the horsepower and torque of your vehicle but you can also analyze and compare the results of these measurements.
Package content: 
Before using for the first time, you need to associate the device with your MagicMotorSport account.
FLEX Full Master road dyno DynoRoad Dragy
FLEX confugurator, a new solution by Magicmotorsport, has been released to replace the famous MAGPro x17. It is a modular solution which allows you to choose only the protocols you need.
For advanced and repairing jobs, use the Flexbox module to program your control unit in BDM, Bootloader, JTAG and AUD modes. The device detects eventual connection or communication errors thanks to the concept of its state-of-the -art design.
FLEX allows you to easily tune, reprogram, upgrade or modify the software of most control units directly through the OBD socket of the vehicle. An internet connection gives you access to all the potential that the tool offers you.
The device allows you to read / write memory not only in passenger cars, but also in trucks,tractors, motorcycles and boats. A full list of supported engines can be found at (currently 10342 vehicle models): https://www.magicmotorsport.com/flex/vehicle-and-services-list/full-vehicle-list-for-flex/
Now you can also compose a FLEX set that will meet your expectations. Depending on your needs, you can freely configure the content or buy a full set at an attractive price – the choice is yours.
The purchased device in the Master mode allows you to open the read memory areas, and thus independent modification. The Slave version allows the controllers to be read and written without the possibility of independent interference in the data. The specified Master has the right to access the files.
Reading methods:
Virtual reading via OBD connector (Internet connection required) is possible in vehicles using diagnostic protocols:

 ISO 15765: 2 x CAN
ISO 99141-2 & ISO 14230: 2 x K-LINE, 1xL-LINE
Ethernet
SAE J1850 PWM, VPW
SAE J1708

In BOOT mode, the device provides support for:

BDM MPC5xx
Bootloader C167
Bootloader ST10F2xx
Bootloader TC17xx
Nexus MPC / SPC 5xxx bootloader
JTAG Renesas SH705x
JTAG Renesas SH72xxx
AUD NEC 76F00xxv
FLEX stands out  by its intuitive operation. Just select the vehicle / driver from the list, and then display the instruction that illustrates the connection of the driver to the device depending on the selected reading method.
In addition, you can buy special tokens that can be exchanged for services. The following is a detailed list:
Additional functions for green coins (- you get 30 every month, do not accumulate):
DPF OFF
DPF EGR OFF
IMMO OFF
HOT START
EGR OFF
IMMO MEDC17
CLONE VAG MEDC17
CLONE VAG PCR2.1
SGO DECRYPTOR
VAG FLSH COUNTER RESET
FRF/ODX Decryptor
Additional functions for red coins (- you buy in a helpdesk, the price depends on the number of tokens you buy, can be exchanged for green coins):
CVN FIX
DTC OFF
VAG SWIRL FLAPS OFF
MOD
ECU HARDWARE CLONE
ADBLUE OFF
SPEED LIMITER
" Heavy duty vehicles " MOD file
" Heavy duty vehicles " SCR OFF
" Heavy duty vehicles " DPF OFF
" Heavy duty vehicles " EGR OFF
" Heavy duty vehicles " CAT OFF
" Heavy duty vehicles " SWIRL VALVE OFF
" Heavy duty vehicles " LAMBDA OFF
Base device includes:
Cabling kit: FLX3.5 color coded wiring harness
Adapter kit: 6 pcs set of pin adapters to FLX4.2
FLEX Base Module
FlexBox Module for FLEX
Connection cable OBD: FLEX to CAN/Kline RED
Connection cable OBD: FLEX to ENet GREEN
Connection cable: USB 2.0 AM-BM BLK 1.8m
Power Supply adapter 110-240V 14V 5A
Connection cable: FlexBox port C to NEC 7F00 XX
Connection cable: FlexBox port D to BDM MPC5xx
FlexBox port E 40 pins adapter for FLX3.5
Flex & FlexBox diagnostic adapter
Examples of reading the contents of the EDC16 and EDC 17 controllers memory in Bench mode:
In stock also other products MMS:
FLEX Full Master road dyno DynoRoad Dragy
Dragy GPS Based Performance Meter
Monitor your 0-60mph, 60-130mph, 100-200kmh, 1/4 mile, 1/2 mile performance, and more! 
Dragy uses high speed GPS satellites to accurately measure your vehicles performance within 1/100th of a second, producing identical results to the much more expensive and cumbersome VBOX system, in a less expensive and easier to use package. The Dragy software automatically charts slope on all timeslips which you can then post to forums or social media, share with friends, or even upload to the Dragy leader board. The Dragy box is extremely compact at 1″ x 3″ (25.4mm x 76.2mm) and can be set on the dash when testing and stored in the glove box or center console when not in use.
In addition there are many advanced features under development including superimposing performance data over your mobile camera, virtual races with friends, an internal feed for photos and performance discussion, and more to come. Runs are saved in both metric and SAE formats, allowing comparisons of 100-200kmh and all metric equivalents. You can also define your own performance windows for measuring both trap speeds and/or elapsed times, time to brake performance such as 100-0, and much more.
The system can be run simultaneously with JB4 Mobile and other bluetooth apps. Requires the Dragy app which is available free of charge for both iOS and Android.
Features of Dragy GPS:
Measure acceleration (0-100kmh, 100-200kmh, 1/4 mile and more)
Measuring braking time (100-0kmh, 200-0kmh and much more)
Lap Time (available soon)
G-force measurement
Highscore list sorted by manufacturer
Dragy
Video Drag and Drop
Profile (garage, profile picture and much more)
More information about Dragy available here