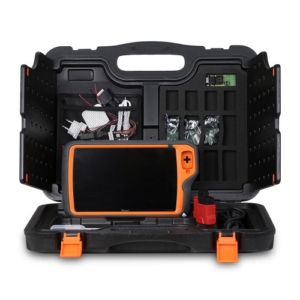 KEY TOOL PLUS -PAD / TABLET
Combines immo programming for luxury cars like BMW, BENZ, AUDI, VW, etc. as well as common functions of key programming and car diagnosis in one single platform.
VVDI Key Tool plus Support DOIP/CAN-FD/ CAN and K protocol switch pin/Chip pin detection/Toyota smart key programming without simulator/Long distance IMMO collection
Lifelong Free Update
UK/Czech warehouse in stock, fastery delivery, no tax
Xhorse VVDI Key Tool Plus Pad/Tablet Full Configuration All-in-One Programmer
KEY TOOL PLUS provides an all-in-one security solution for locksmiths.
Much easier to complete various automotive programming anywhere with no need to take your laptop, mobile phone. It supports IMMO programming for luxury cars like BMW, BENZ, AUDI, and VW. besides, it's available to control the key cutting machines developed by Xhorse. Greatly saving cost and facilitating the work process. Furthermore, more advanced functions will be supported for the convenience of locksmiths in the future.
Highlights for VVDI Key Tool Plus
1. It is Global advanced version.
2.Combines Key prgramming functions of VVDI2 ,VVDI MB ,VVDI PROG, VVDI Key Tool Max and available to control Xhorse key cutting machines.
3. Bind with Xhorse key cutting machines to get free MB BGA token everyday.  ID48(XNR-SS303) and read MB Key password(XNR-SS240) online will need token, but you can exchage with your xhorse bonus points,  copy 48 96 bit (100 points) and mercedes calcuation(200 points).
4. Do Toyota H smart key AKL without emulator
5.The most advanced application processor of KEY TOOL PLUS, with integrated Bluetooth, FM, WLAN, and GPS modules, is a highly integrated baseband platform incorporating both modem and application processing subsystems to enable the best and most convenient connectivity solution. With this super processor, the enhanced overall quality is achieved for simultaneous voice, data, and audio/video transmission on the device.
6.Much easier to complete various automotive programming anywhere with no need to take your laptop, mobile phone.
7.Lifetime Free Update Online & Technical Support
8. Language: English ,french ,spanish ,português
9.1 Year Warranty 
Support
√ CAN and K protocol switch pin
√ Chip pin detection
√ Toyota smart key programming without simulator
√ Long distance IMMO collection
Built-in
√ OBD matrix switch
√ Radiofrequency simulator
√ Smart key simulator
√ Integrated key identification coil
√ BENZ infrared reading head
IMMO Programming
KEY TOOL PLUS supports over 20,000 car models worldwide. We can select the car brands and car models on the immo programming interface. On this smart platform, we can easily find the car models we need by brand area, brand name, and A-Z word search.
WE MAKE IT FIT FOR MORE LUXURY CAR BRANDS Support IMMO programming on luxury car brands – Benz, BMW, Audi, VW and common car brands – Toyota, Honda, Mazda, Ford, etc.
VW & Audi:
3rd / 4th / 5th generation
MQB
MED17/EDC17
BMW:
BMW CAS1/CAS2/CAS3/CAS3 /CAS4/CAS4 OBD key learning
FEM/BDC key programming
File Make Key
ECU ISN Reading Function
ECU and CAS synchronization
BENZ:
FBS3 standard keys and FBS3 keyless-go keys
Smart keys, all keys lost, add keys, enable & disable keys
EIS/EZS, ELV, ECU, gearbox, and ISM replacement
WE IMPROVE THE IMMO DATA TOOL (FILE MAKE KEY)
Key programming and some settings cannot be completed via the OBD port on some car models due to their immobiliser protection system. With a professional programming method – FILE MAKE KEY, the problem can be easily solved.
File make key to generate car key by using data file. Users need to use a specific device to read the immo data and generate the starter transponder to directly start the car, no need to match the original car. (Users may need to rewrite data to immo box when programming some car models.
KEY TOOL PLUS supports key creation function for popular car and motorbike models. We can easily find the needed car models by brand, brand name and AZ word search.
We also offer: