CARPROG BASIC
What is CARPROG BASIC:
A universal device for repairing electronics in cars. Among other things, it will allow you to repair immobilisers, car radios, counters or dashboards.
It can be used as EEPRON and microcontroller programmer or transponder key programmer.
Already during the design of the device, the manufacturer (CODECARD.LT) tried to take into account the needs of its future customers, which resulted in creating a user-friendly device.
On Ms Windows XP, 7, 8, 10 the device works after downloading and running the CarProg application and connecting the device. There is no need to look for additional software.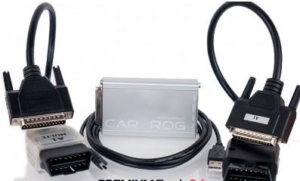 CarProg is equipped with a powerful 16-bit MPU and has a full set of drivers for car interfaces.
Buying this item you don't just get the device, but also many additional features such as radio code calculator, EEPROM programmer or VAG dashboard CAN programmer. Besides, you can always buy additional software according to your needs.
Using this device you don't have to be afraid of piracy and hackers. Each device contains an individual serial number and activation of additional software requires internet and connection to a server.
In the Basic version, in addition to the device you get :
▶ Adapters
A1MULTI: CarProg OBDII adapter
A1: CarProg OBDII adapter
A2: USB adapter
▶ Software
ECU-OPEL: Login reader from motor hybrid ECU for Opel. Works with Bosch ME1.5.5, Siemens SIMTEC71, SIMTEC71.1, Delco Diesel, Delco Multec
OPELCAN: By CAN programmer for Opel ECU – read/repair mileage in EDC16, MT35E, HSFI 2.2 read PIN, reset ECU
OPEC 28: Advanced tool for Opel Siemens Simtec ECU
PSG16: By OBDII for Opel PSG16 diesel pump – read/repair mileage, read PIN, reset ECU
CarProg Basic AIRBAG
S5.1: Airbag reset tool for VAG (Audi, VW, Skoda, Seat)
S5.2: Airbag reset tool for BMW
S5.3: Airbag reset tool for Mercedes-Benz
S5.4: Airbag reset tool for Ford
S5.6: CarProg CR16 airbag tool for Audi, Mercedes, Ford, Volvo airbag sensors with CR16 processor
S5.7: Airbag reset tool for Renault
S5.8: Airbag reset tool for Peugeot
S5.9: Airbag reset tool for Citroen
S5.11: Airbag reset tool for Audi by direct connection to EEPROM or MPU
S5.14: Airbag reset tool for Ford by direct connection to EEPROM or MPU
S5.16: Airbag reset tool for Hyundai
S5.17: Airbag reset tool for KIA
S5.18: Airbag reset tool for Lexus
S5.19: Airbag reset tool for Rover
S5.20: Airbag reset tool for Mercedes-Benz by direct connection
S5.21: Airbag reset tool for Mazda
S5.22: Airbag reset tool for Mitsubishi
S5.23: Airbag reset tool for Nissan
S5.25: Airbag reset tool for Opel by direct connection
S5.27: Airbag reset tool for SAAB by direct connection
S5.28: Airbag reset tool for Subaru by direct connection
S5.30: Airbag reset tool for Toyota by direct connection
S5.31: Airbag reset tool for Alfa Romeo
S5.32: Airbag reset tool for Fiat
S5.33: Airbag reset tool for Porsche
S5.34: Airbag reset tool for Suzuki
S5.35: Airbag reset tool for Volvo
S5.36: Airbag reset tool for Daewoo
S5.37: Airbag reset tool for GM
▶ CarProg DASHBOARD
2J74YAUDI: CarProg repair software for Audi 2J74Y processors
S7.1: By CAN programmer for VAG
S7.2: CarProg Dashborad repair
S7.3: Carprog Dashboard repair package update
S7.4: Km repair by OBDII for Fiat
S7.5: ASSYST esplorer for Mercedes-Benz
S7.6: VDO dash decrypt tool for Skoda Roomster, Superb, VW Polo, Audi A3, A6, allroad with 93C86 odometer repair and PIN reading
S7.7: Odometer repair by OBDII, CAN for Ford
S7.8: Repair by OBDII for 2007 VW Golf, Passat, Eos, Touran, Tiguan, Octavia with Micronas
▶ CarProg IMMO
S4.1: Key programmer for Toyota
S4.2: Key programmer for Lexus
S4.3: Key programmer for Daihatsu
S4.4: Key programmer for BMW
S4.5: Key programmer for Merceds-Benz
S4.6: Key programmer for Renault Megane, Scenic infrered
S4.7: Kessy tool – A8, Toureg, Phaeton, Cayenne PIN code reader
▶ CarProg PROCESSOR
S2.1: CarProg Motorola (Freescale) HC05 MPU programmer
S2.2: CarProg Motorola (Freescale) HC11 MPU programmer
S2.3: CarProg Motorola (Freescale) HC08 MPU programmer
S2.4: CarProg Motorola (Freescale) 912 and 9S12 MPU programmer
ST92: ST92F120, ST92F150, ST92F250 internal EEPROM programmer
▶ CarProg RADIO CODE
CC4: Car radio security code calculator by serial number for Grunding and Phillips
CDR500: Car radio decoding by OBDII for Opel CDR500, CDR2005
RNS510: Nevigation decoding tool by Navi diagnostic for RNS510
S6.1: CarProg CC1
S6.2: CarProg CC2
S6.3: CarProg CCN
S6.4 – PHCODE: Car radio decoding software for Phillips
S6.5: Car radio decoding software by serial number for Renault
S6.6: Car radio decoding software for Audi, VW, Seat, Skoda
We also offer:
CarDAQ-Plus3 Bluetooth kit J2534 PassThru head