AUTOOL SDT208 Smoke Machine
Description:
AUTOOL SDT208 Car Smoke Leak Detector EVAP System Tester—an marvelously professional auto pipes leak smoke detector, in line with the technical specifications of the car repair shop EVAP test. SDT208 greatly increases efficiency and helps us locate leaks from cars and motorcycles on our piping system within minutes, quickly and exactly, such as EVAP System Test, Intake System Test,Exhaust Systems Test, Turbo System Testing, Crankcase system test,Car Sealing Test, Various Pipe Fittings Test.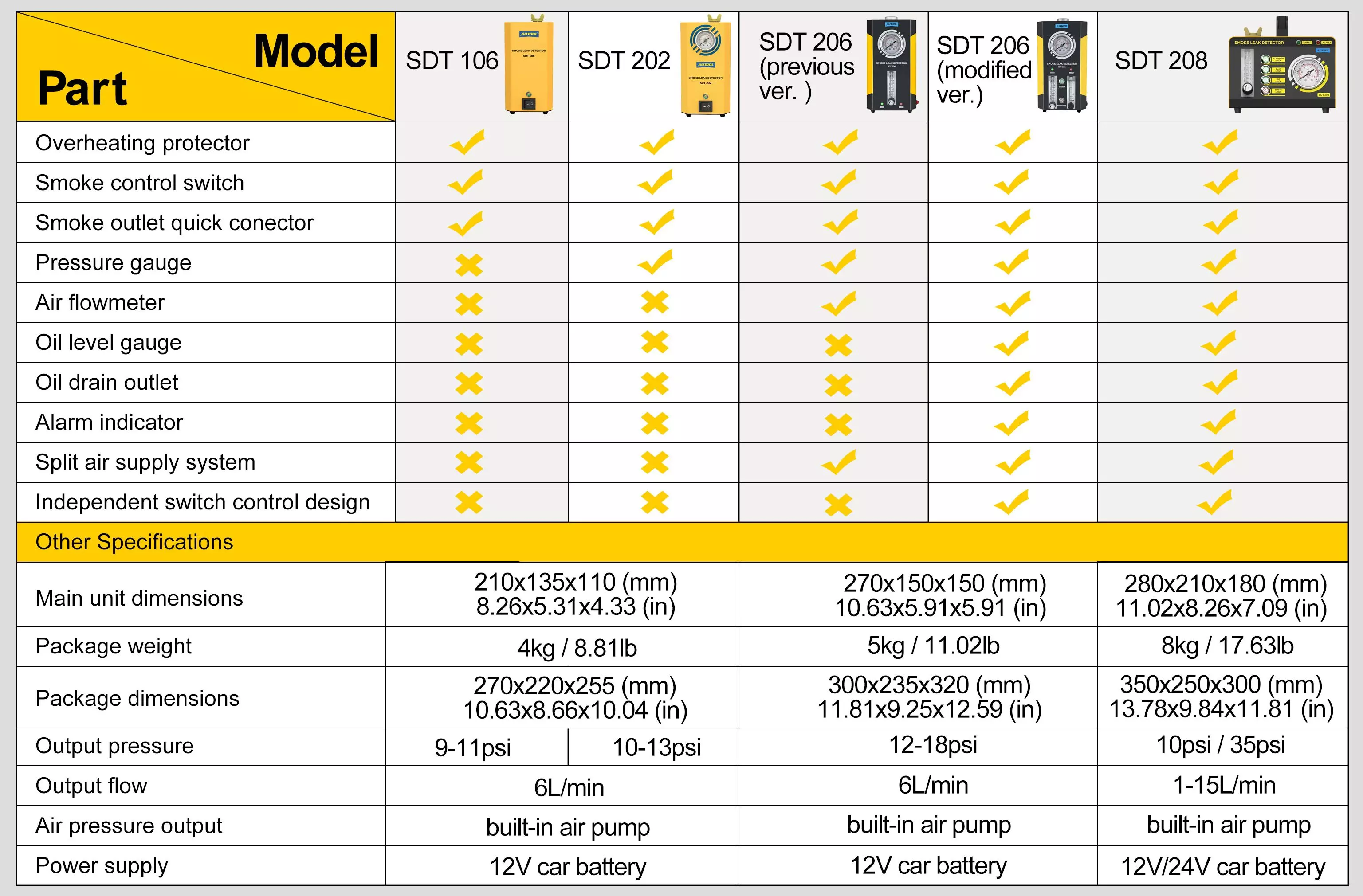 How to do leakage test?
1. Fill 10ml baby oil to the detector for the first time. Open the engine cover, and hang the detector in the cover.
2. Open the pipe that needs to be connected to the detector and access the adapter.
3. Connect detector with DC12V battery, turn on the power switch, and the detector starts to work
4. In about 30s, the pipe will be filled with smoke. Check the leak points. Please use head lamp if necessary.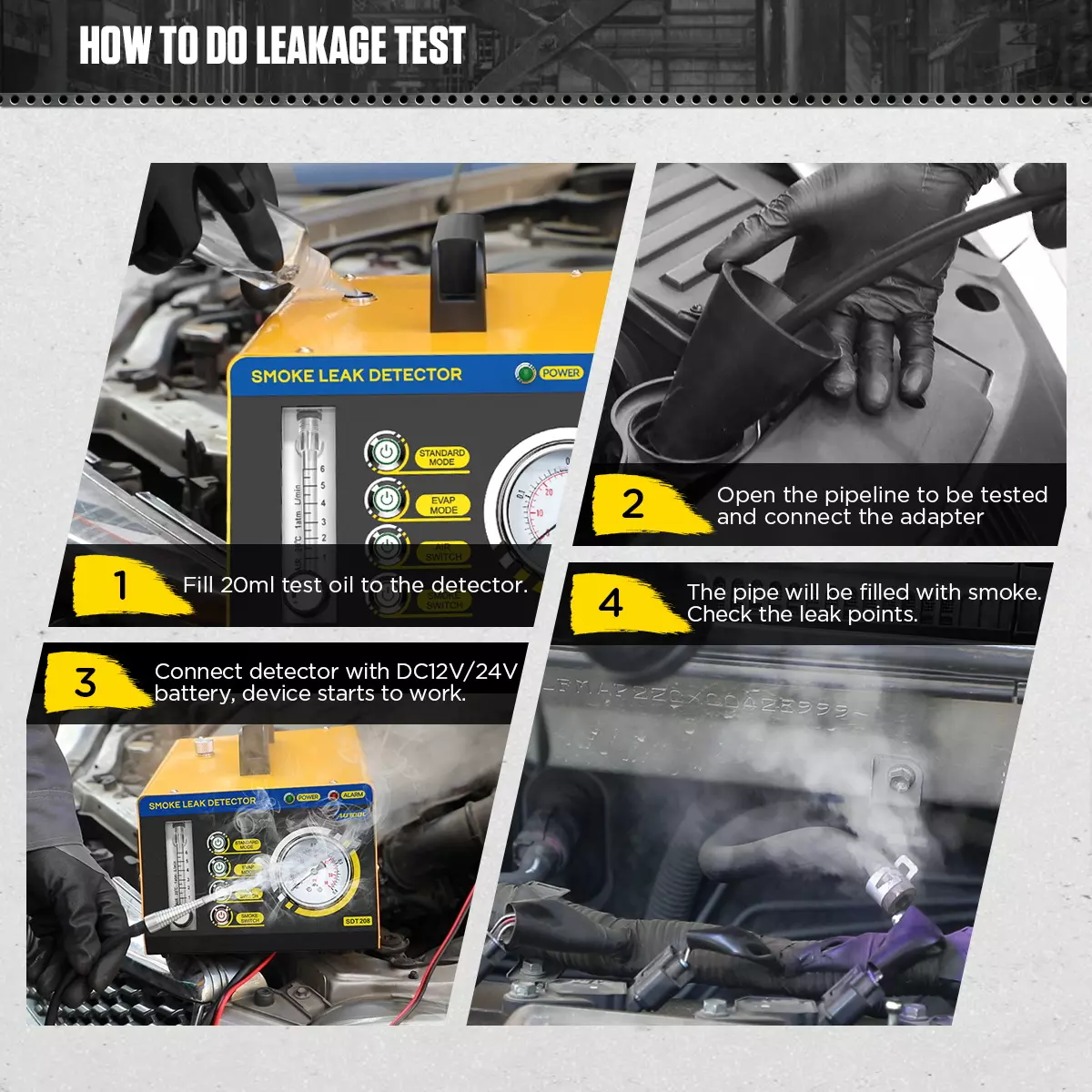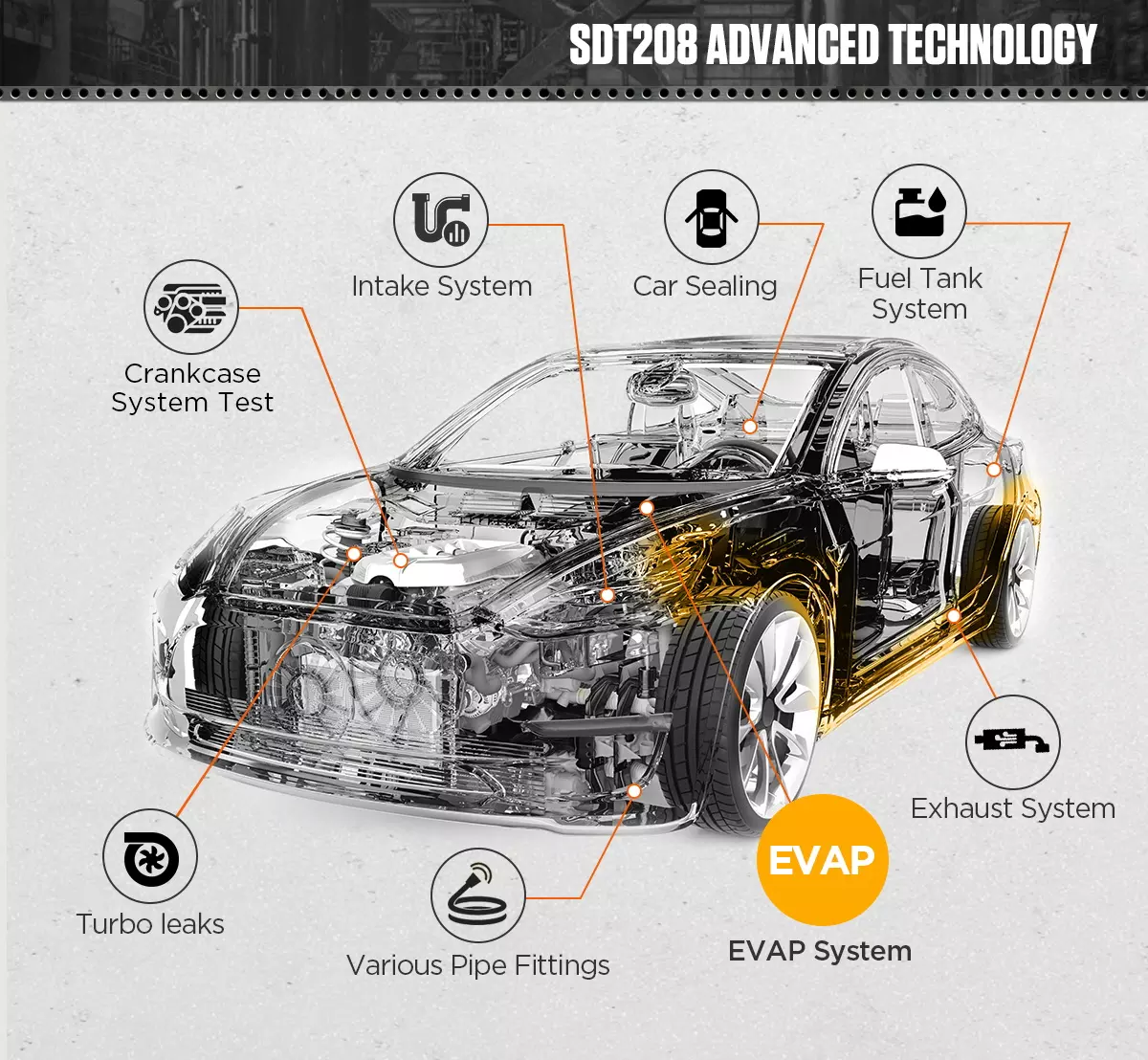 AUTOOL SDT 208 Car Smoke Leak Detector Features:
1. [ Professional EVAP Detection ]: In line with the technical requirements of the car repair shop EVAP test. The SDT208 can detect tiny leak holes up to 0.5mm and has a hold-limit pressure protection function in EVAP mode, so as to protect vehicle pipes from damages.
2. [ Unique Design ]:The SDT208 is equipped with two pressure control modules, respectively,Standard Mode and EVAP Mode. And two independent switches (Air &Smoke), which can be used for a wide range of leak detection needs. Provided with three gauges includes Oil Level, Air Flow & Air Pressure for accurate data display.
3. [ Wide Range of Application ]:It supports 12V/24V car batteries. For detecting the leakage of pipe systems on cars, motorcycles, snowmobiles, off-road vehicles, ATVs, light trucks, and speedboats boats. Suitable for all car models.
4. [ Operation Safety ]:The SDT208 owns high temperature protection and hold -limit pressure. During operation, if the equipment senses the temp. above 75°C, the power supply will be automatically power off. If the air pressure exceeds the Standard mode (35psi) /EVAP mode (10psi), the air pump will stop working. This effectively ensures the safety of operators and equipment.
5. [ 3-YEAR WARRANTY ]:For damage caused by non-human factors, we promise to resend parts for free within 3 years. For any needs, you are warmly welcomed to contact us and we will get back to you ASAP within 24 hours.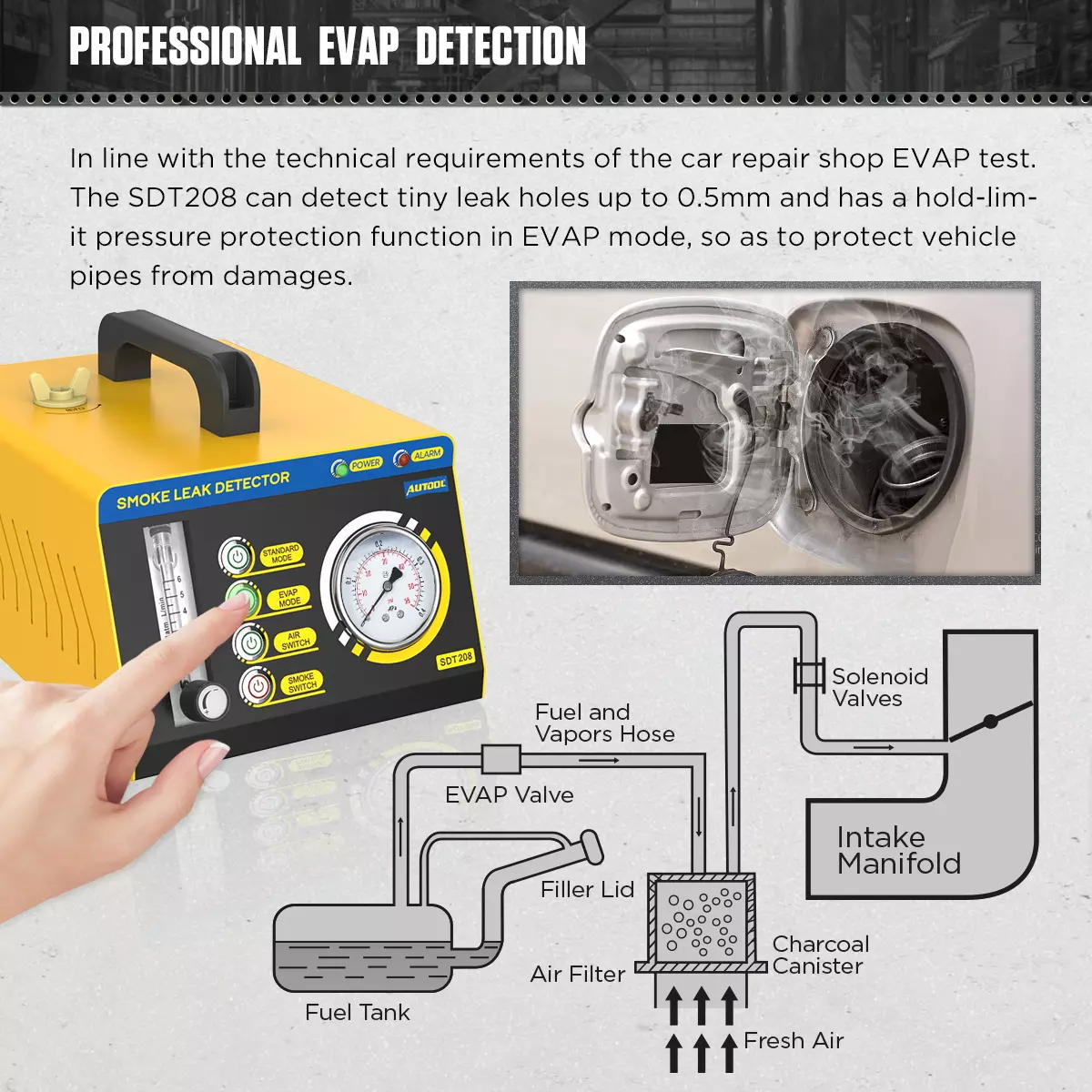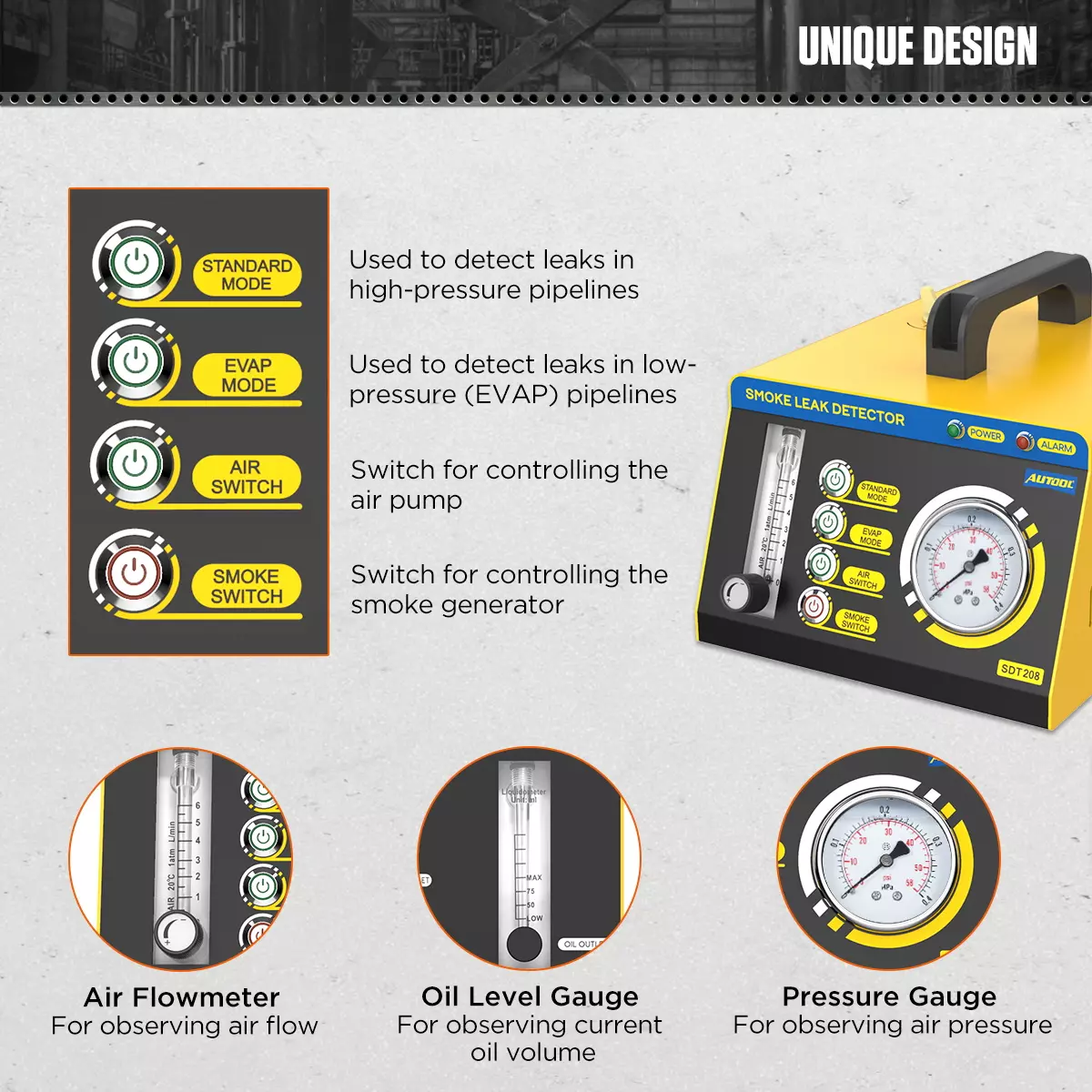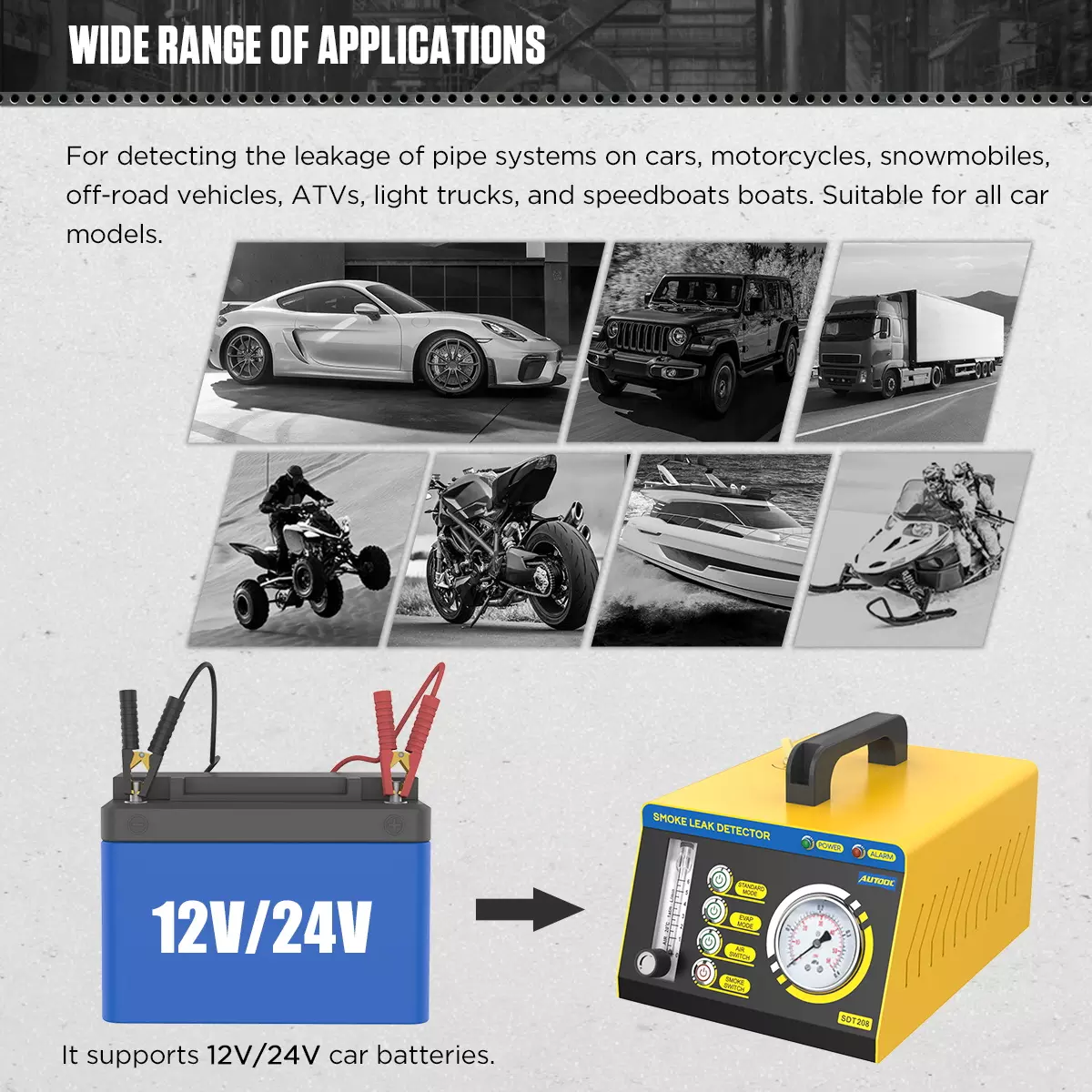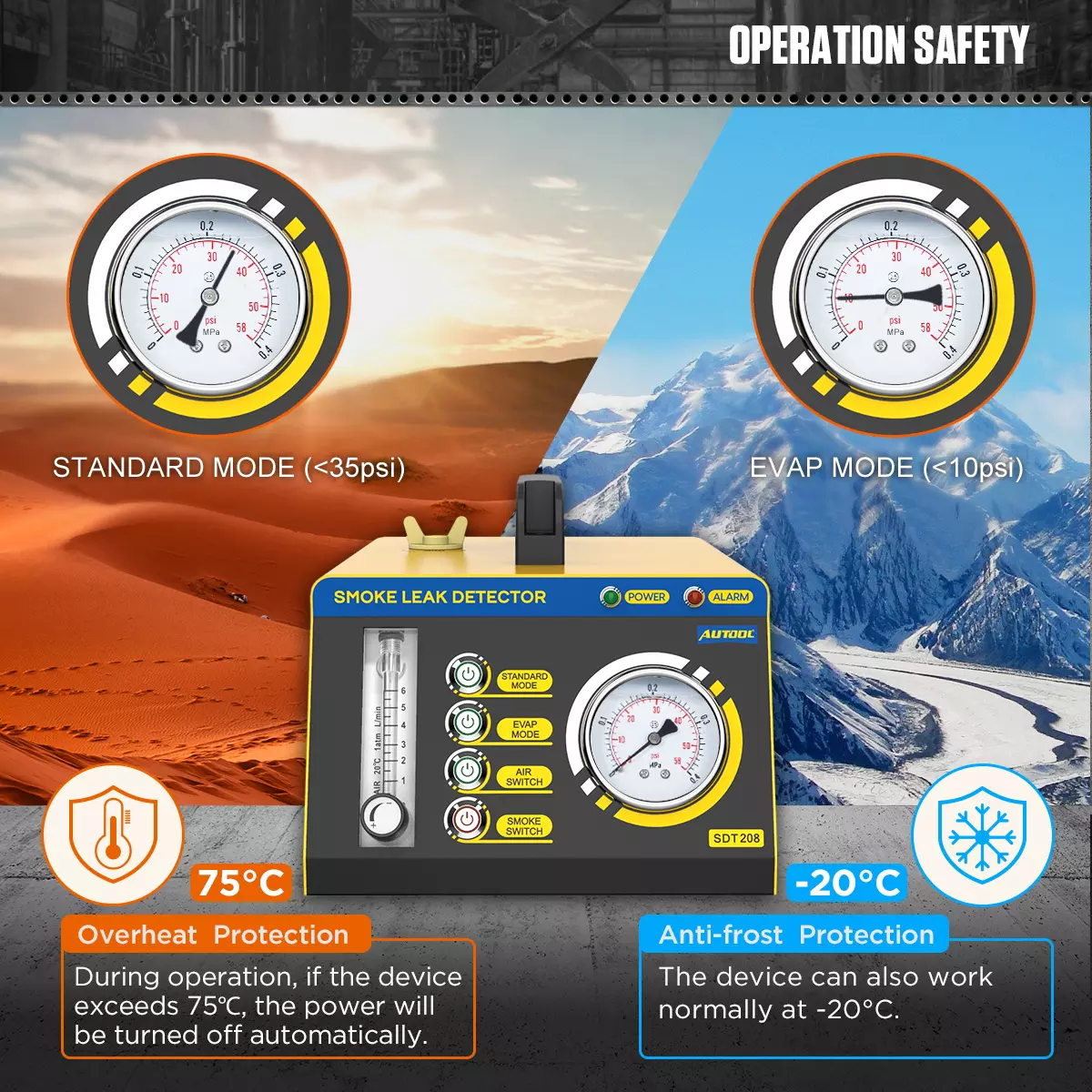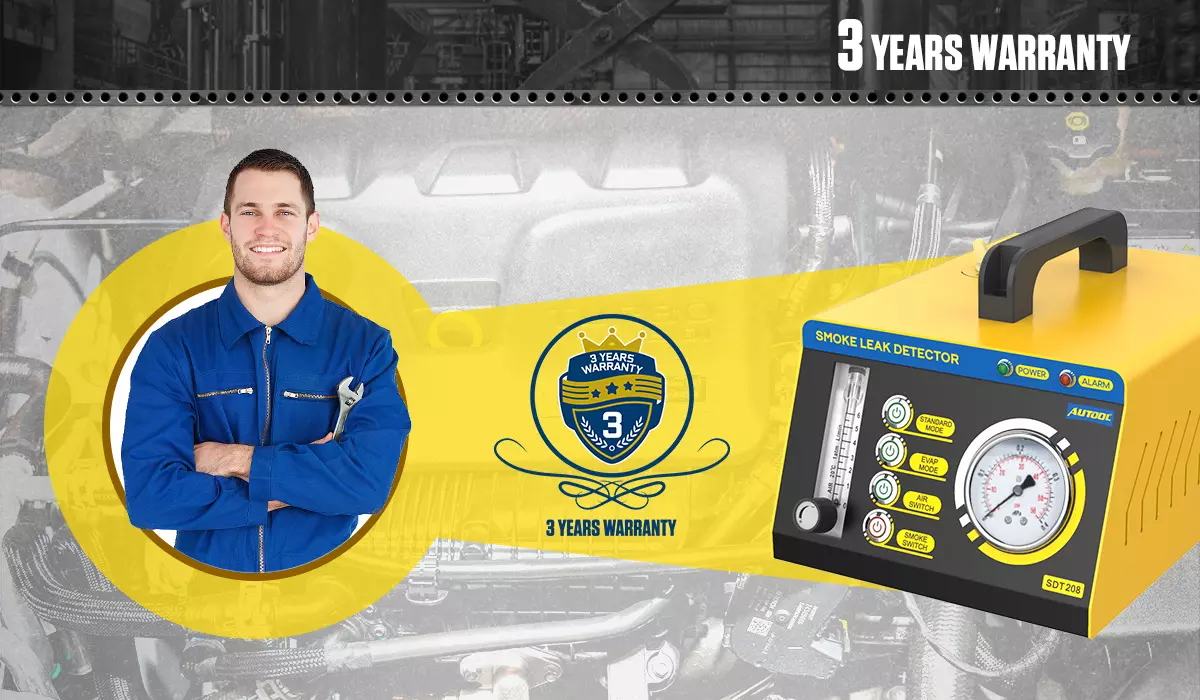 Caution:
1. Standard Mode and EVAP Mode can NOT be turned on at the same time.
2. When you use this AUTOOL SDT208 Car Smoke Leak Detector EVAP System Tester for the first time, fill with 10ml oil . Please be careful NOT to beyond this range.
3. The testing liquid : both liquid paraffin and baby oil are OK.
4. Fresh oil can be filled with only when the smoke gets thin, and it can't be filled over 20ml each time.
5. Before filling fresh oil, please pour out the left oil in the detector & replace the detector oil regularly.
6. During the process of leak detection, please keep away from smoke-sensitive parts.
7. Do NOT run the detector over 8 minutes continuously. It needs interval rest.
8.The detector has a smart protector,during operation, if the equipment senses the temp. above 75°C, the power supply will be automatically power off.
9. The round part of this detector has temperature, please be careful to avoid burns.
10. If the test pipe needs to be disconnected in the middle, please secure the other side with a rubber stopple.
Packing List:
1pcs * AUTOOL SDT208 Car Smoke Leak Detector EVAP System Tester Main Unit
1pcs * Rubber Connect Parts
1sets * Hard Rubber Hose Plug (with serial specification)
1sets * Soft Rubber Hose Plug (with serial specification)
1pcs * Standard Cone Adapter
1pcs * Universal Airbag Adapter
1pcs * Power Cord Clamp
1pcs * Valve Core Wrench
1pcs * Test Oil Refill Bottle(oil not included)
1pcs * EVAP Special Connector
1pcs * Smoke Hose
1pcs * User Manual